"We kept the tube running during the pandemic"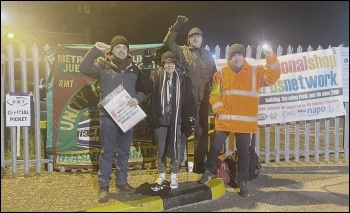 RMT tube strike, December 2021
Workers on the tube in London, members of the RMT transport union, have been striking against the imposition of "impossible and unreasonable demands on staff" over the reopening of the 'night tube'. Workers have been striking weekly, refusing to work night duties on the Central and Victoria lines, as well as all duties on Jubilee, Northern, Piccadilly at the end of November and on 18-19 December.
"The disruption is entirely down to bosses and them abolishing the 'night tube' driver grade. The tube network has been hit financially, but management are using that as an excuse to attack us, even though they sat at home when we kept the tube running during the pandemic, risking our health," one striking driver told the Socialist.
In addition to the imposition of night tube duties, all tube and Transport for London (TfL) workers are facing a concerted attack on their pensions and conditions.
"After 30 years of shift work a tube worker can expect to retire on less than half their salary."
Workers see the action as the opening stage of this bigger battle.
The RMT has also agreed to conduct a ballot of all and London Underground members over pensions, jobs and working practices (so-called framework agreements), amid looming cuts threatened by both London Mayor Sadiq Khan and the Tories.
TfL is also demanding more flexible working. As if working shifts around the clock over a seven-day working week isn't enough! Tube bosses want to own staff 24/7. They want to demand changes to shift times and rest days whenever they demand it.
If the dispute goes unresolved, all train operators and instructor operators in the RMT on night tube lines will strike for 24 hours from 4.30am on 18 December.