Link to this page: https://www.socialistparty.org.uk/issue/511/3426
From The Socialist newspaper, 22 November 2007
Defend Karen Reissman
Defend free speech and trade union rights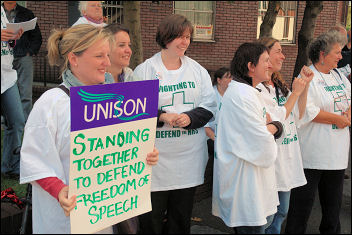 Manchester mental health workers on strike, photo Christian Bunke
Manchester mental health workers have taken over two weeks' strike action to defend their sacked union rep Karen Reissman. Accused of 'bringing the trust into disrepute' by speaking out against mismanagement, Karen is a victim of union-busting as the NHS is dismantled and privatised.
Hugh Caffrey, Manchester Socialist Party
Trust bosses want to make £3 million-worth of cuts to mental health, which will mean job losses and a worse service. But money is no object when it comes to strike-breaking. Private hospital beds are being paid for by Manchester primary care trust!
Workers' action in January defeated attempts to cut the number of mental health teams and staff and pushed back attempts at privatisation.
Without campaigning unions, the bosses would victimise the entire working class through poverty pay, cutting public services, etc. When workers fight back, the bosses try to victimise union representatives. This is currently true in the NHS, the Royal Mail, local government, and many private-sector industries.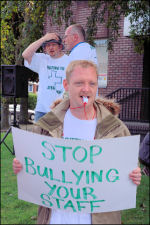 Manchester mental health workers on strike, photo Christian Bunke
Every trade unionist and the wider working class needs to mobilise in support of Manchester's mental health strikers.
For New Labour though it's a different question. Minister for mental health Ivan Lewis refused to even discuss the case. Manchester's Labour council health spokesman described the strike as "cruel… not justifiable… indefensible… a despicable act" (Manchester Evening News 15 November).
Why is Unison, the trade union representing thousands of health workers, still giving money to this rabble? The link to New Labour has bought Unison members nothing, except inaction by union leaders more worried about upsetting the government than about defending their members.
Karen and the strikers have huge support from workers in and beyond the health service. Mobilising this support can put huge pressure on the trust. Socialist Party members and others have argued for a day of action to be announced on the 24 November demonstration.
Calling for supporters at every hospital and even more widely, to mount protests on a date in the near future would get a huge echo. Should the trust still not budge, the ground could be further prepared for wider action and possibly a national demonstration.
While strikers have taken the lead, Unison officials have been extremely slow in publicising the strike, especially the 24 November demonstration. Is this the Labour link at work again? To ensure their colossal support is mobilised, strikers will have to continue taking the lead.
Management are, at the time of writing, still trying to sit out the dispute. A swift victory could be won by continuing solid strike action, and solidarity protests against the trust bosses and their cronies.
Through this can also be built solidarity between all those fighting to save the NHS, and workers fighting to defend their democratic and trade union rights.
---
>
As we go to press it seems that the management have been forced back into negotiations.
---
>
For more information see: www.reinstate-karen.org, or Union office, Chorlton House, 70 Manchester Rd., M21 9UN.
---
>
Solidarity meetings: every Monday, 6-7.30pm, Mechanics Institute, Princess Street, city centre.
---
>
No more money for New Labour, join the Campaign for a New Workers' Party, www.cnwp.org.uk; PO Box 858, London, E11 1YG.
---
>
Demonstration, Saturday 24 November.
Assemble 1pm, Peace Gardens, behind Manchester town hall.
Why not click here to join the Socialist Party, or click here to donate to the Socialist Party.
---
In The Socialist 22 November 2007:

Profit system wrecks climate
---
Socialist Party NHS campaign

Defend Karen Reissman: Defend free speech and trade union rights
---
Banking Crisis

Nationalise Northern Rock permanently to safeguard workers' interests
---
International socialist news and analysis

SOLIDARITY APPEAL: Defend Tukwila Teachers Threatened with Termination for Antiwar Student Walkout

France: massive public sector workers' strike
---
Socialist Party news and analysis

SNP budget will not satisfy expectations

Detention without trial: Defend civil rights

New attacks on incapacity benefits

'Cheap and nasty' Camden council to shut deaf school

News in brief
---
Socialism 2007

Socialism 2007: Inspired by past victories, preparing for future struggles
---
Education

Support the Northern Ireland classroom assistants

Cardiff schools: Parents march against closure threats
---
Socialist Party features

Rail transport: Overpriced, overcrowded, underinvested

Train drivers strike in Germany

Labour's pensions - a social time-bomb
---
International socialist news and analysis

Denmark general election: Socialist People's Party doubles its MPs

2008 US presidential election

GM, Chrysler, and Ford's 'race to the bottom'
---
Workplace news and analysis

Postal workers campaign against "MacMail"

Doncaster Hospital workers on strike for £9,000 back pay

National Union of Journalists: Standing up against the robber barons
---
Home | The Socialist 22 November 2007 | Join the Socialist Party
---