Link to this page: https://www.socialistparty.org.uk/issue/511/3427
From The Socialist newspaper, 22 November 2007
'Cheap and nasty' Camden council to shut deaf school
On Wednesday 21 November staff, parents and pupils will be marching to stop Camden council deciding to close Frank Barnes primary school for deaf children. Two weeks after prime minister Gordon Brown announced he would close 'bad' schools, Camden council could decide to close a good school with outstanding features.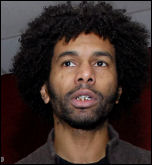 Socialism 2007 - Hugo Pierre, photo Paul Mattsson
Hugo Pierre, Camden Unison convener
The school provides its entire curriculum to mainly, but not exclusively, profoundly deaf students in British Sign Language.
The government's OFSTED inspectors said: "Frank Barnes is a good school. Pupils achieve well and learn to communicate very effectively through British Sign Language. The care, guidance and support offered to pupils are good, and some aspects are excellent."
Liberal Democrat councillor John Bryant, executive member for Children's Services, said at a council meeting on 31 October, that any replacement to Frank Barnes would be 'equivalent or better' than Frank Barnes.
This was when he was faced with Halloween night parent, pupil and staff protesters. But this 'treat' is now being replaced by a cruel 'trick' on London's deaf children.
The council are reneging on their July decision to merge Frank Barnes and Blanche Neville schools. Now they want to close Frank Barnes and transfer its pupils to Blanche Neville school in Haringey, north London.
They have not worked out how the Haringey school would provide the curriculum in British Sign Language as Frank Barnes has the expertise. The council have been told that some students could suffer lasting damage from this decision.
The two main trade unions concerned, Camden NUT and Camden Unison fear specialist teaching and support staff who are fully trained in British Sign Language could face the sack if the councillors' transfer option goes through.
Many parents fear increased isolation from school if these proposals go through. The move to a north London site from the current central London one would increase travelling times for many of the children at Frank Barnes, who come from all over London to attend this excellent provision for deaf children.
Camden NUT and Camden Unison believe Camden council are putting their 'Better and Cheaper' cuts programme ahead of student learning. Transfer to Blanche Neville is cheapest. It would possibly save on the £1 million already allocated to rebuild Frank Barnes and would prevent them having to spend an estimated further £3.5 million on building a new school.
The demonstration starts at 5pm at the Crowndale Centre, Eversholt Street, NW1 (opposite Camden Palace) - nearest tube Mornington Crescent. We will march on the Town Hall for a lobby at 6pm.
Why not click here to join the Socialist Party, or click here to donate to the Socialist Party.
---
In The Socialist 22 November 2007:

Profit system wrecks climate
---
Socialist Party NHS campaign

Defend Karen Reissman: Defend free speech and trade union rights
---
Banking Crisis

Nationalise Northern Rock permanently to safeguard workers' interests
---
International socialist news and analysis

SOLIDARITY APPEAL: Defend Tukwila Teachers Threatened with Termination for Antiwar Student Walkout

France: massive public sector workers' strike
---
Socialist Party news and analysis

SNP budget will not satisfy expectations

Detention without trial: Defend civil rights

New attacks on incapacity benefits

'Cheap and nasty' Camden council to shut deaf school

News in brief
---
Socialism 2007

Socialism 2007: Inspired by past victories, preparing for future struggles
---
Education

Support the Northern Ireland classroom assistants

Cardiff schools: Parents march against closure threats
---
Socialist Party features

Rail transport: Overpriced, overcrowded, underinvested

Train drivers strike in Germany

Labour's pensions - a social time-bomb
---
International socialist news and analysis

Denmark general election: Socialist People's Party doubles its MPs

2008 US presidential election

GM, Chrysler, and Ford's 'race to the bottom'
---
Workplace news and analysis

Postal workers campaign against "MacMail"

Doncaster Hospital workers on strike for £9,000 back pay

National Union of Journalists: Standing up against the robber barons
---
Home | The Socialist 22 November 2007 | Join the Socialist Party
---