Link to this page: https://www.socialistparty.org.uk/issue/513/3535
From The Socialist newspaper, 6 December 2007
System change not climate change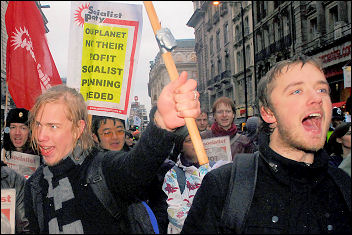 Climate change demo December 2007, photo Paul Mattsson
Can we breathe a sigh of relief? Are the most serious and challenging problems facing our future to be addressed?
Sarah Sachs-Eldridge
The United Nations Framework Convention on Climate Change is currently taking place in Bali. 180 countries are represented. These and other governments together spend $1.2 trillion on arms. Surely they can find the 1% of global GDP needed to bring climate change under control? But don't hold your breath and save that sigh.
There is no question that our planet is in bad health. Sir Nicholas Stern has said that his Stern Review was "excessively conservative" and he is now calling for an 80% reduction in global carbon emissions by 2050. The UN says the risks of "ecological catastrophe" are rising. Global warming has been described as the greatest single threat to natural life on the planet.
The poorest face the greatest dangers. The UN estimates that one person in 19 living in the poorest countries is at risk from climate dangers compared to one in 1,500 in richer countries. Within richer countries it is the working class and poor who suffer, as was demonstrated by Hurricane Katrina in the US in 2005.
Should we hope for good news on 14 December when the conference ends? Those hopes would be misplaced. The record of capitalist governments is pretty much uniform - broken pledges, missed targets, hypocrisy piled on lies.
They even miss their targets when they are incredibly modest. The guardian discovered government documents admitting they see the target of a 20% reduction in carbon emissions by 2020 as impossible. And yet they announce these targets to great fanfare and applause.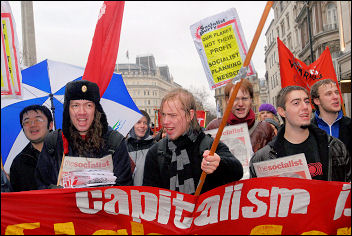 Climate change demo December 2007, photo Paul Mattsson
But why do they continue to fail? Is it because there's no money to invest in green alternatives? There was sufficient slackness in Gordon Brown's purse strings to find £76 billion to replace Trident nuclear weapons. £7 billion was found to inflict a living hell on the people of Iraq.
Tens of millions of pounds were employed to lavish enormous wealth on the new shareholders of QinetiQ. There was adequate capacity to make generous tax cuts for the rich and private equity with a doubling of the profits of the FTSE100 companies last year.
What conclusion can we draw? The problem is systematic. When those in power prioritise increasing the wealth of the richest before the needs of the majority and the planet there is no hope. The resources needed to adequately address the problems we face are huge.
Despite the record profits made by big business the money will not be ploughed into saving the planet but will be poured into lining the pockets of the super-rich. Pro-capitalist politicians have proved time and again that they are at the beck and call of the multinationals.
Hundreds of thousands will protest around the world to coincide with this conference. The message from the socialist to all those protesters is to organise and to fight back against the perpetrators of this crime against our planet and our future.
But most importantly; that there is an alternative. A socialist society would be planned to meet the needs of all taking the needs of the planet into consideration.
And to achieve it we don't need to wait to hear what comes out of the Bali talks. Instead we need to build a movement of working-class and young people to fight for that socialist alternative.
---
>
Campaign against Climate Change demo
Saturday 8 December
Assemble 12noon Millbank, Westminster, London SW1
Why not click here to join the Socialist Party, or click here to donate to the Socialist Party.
---
In The Socialist 6 December 2007:

System change not climate change

Feature: The free market brings fire, flood and famine

For decent public transport!
---
Workplace news and analysis

DWP strike: Fighting low pay

Socialists and the trade union leaderships
---
What we think

Labour's funding scandal

How New Labour got hooked

Grayscale
---
Education

No to academy schools!

Compulsory school to 18 - a rosy future for young people?

Child poverty rises

Rail fares unfair
---
International socialist news and analysis

Chavez referendum result a big setback

Annapolis - a framework for further conflict

Intelligence on Iran wrong

Disunited Russia

Italy: transport strike

Kosova: After the elections - before the explosion

Northern Ireland classroom assistants

Argos strike in southern Ireland

South African miners strike over safety
---
Socialist Party review

The socialist review: 'Taking Liberties'
---
Post Office and CWU

Keep the 'people's Post Office' public

CWU ballot result
---
Workplace news

Unison's right wing still witch-hunting

Save Cadbury jobs!

Manchester's striking mental health workers: Defending trade union rights
---
Home | The Socialist 6 December 2007 | Join the Socialist Party
---