Link to this page: https://www.socialistparty.org.uk/issue/515/3595
From The Socialist newspaper, 10 January 2008
Victory!
Tenants beat £1 million sell-off campaign
COUNCIL TENANTS and local campaigners have won a significant local victory in Lewisham, south London, against the privatisation of council housing. CLIVE HEEMSKERK reports.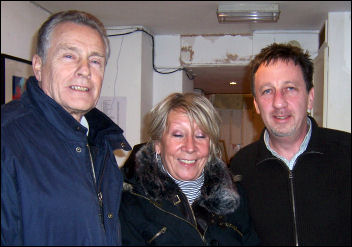 Socialist Party councillor Ian Page with tenant activists, photo Lewisham Socialist Party
IT WAS five days to Christmas when it appeared. Three terse paragraphs on the council's website. No mention this time of 'A bright future for tenants' or 'Landmark stock transfer result', headlines that greeted earlier votes backing privatisation. Just a downbeat: 'Result of the New Cross Gate stock transfer ballot'.
But the facts were out. Lewisham's ruling New Labour councillors could suppress it no longer. Their plan to privatise 1,350 council homes in the New Cross Gate area, one-third of them in the Socialist Party-held council ward of Telegraph Hill, had been defeated. 54.6% voted No, 45.4% Yes, on a 56.8% turnout (higher than general election turnouts here). This was a fantastic victory for council tenants, the Hands Off Our Homes campaign, and the Socialist Party.
Labour's plans
Lewisham council has enthusiastically backed government plans to phase out council housing. This is being achieved by tying funding for mandatory 'Decent Homes standard' improvements to the disposal of council homes, through private finance initiative (PFI) schemes, the setting-up of 'arms-length management companies' (ALMOs), or transfer to housing associations.
Lewisham embraced all three 'options'. PFIs cover 5,000 council homes, the Lewisham Homes ALMO manages 15,000 properties, and 8,000 homes have been transferred to three housing associations, London & Quadrant, Phoenix and Hyde.
There had been problems for New Labour in setting up Lewisham Homes, after opposition by the Socialist Party councillors, Ian Page and Chris Flood. Because an ALMO is, effectively, a managing arm of the council (its only shareholder), there is no legal requirement for a tenants' vote, as they remain council tenants. But ALMOs are 'half-way houses' to privatisation, as once 'Decent Homes' improvement works are completed (by a national deadline of 2012), they can become commercially independent.
That is why Ian Page and Chris Flood, opposing the ALMO, moved at the July 2006 council meeting for a tenants' and leaseholders' ballot. In local elections two months earlier, Labour had lost its overall majority in Lewisham. As the only way to defeat our motion, they had to agree a ballot would be held if Lewisham Homes wanted to become independent of the council in 2012.
But that setback was 16 months ago, New Labour reasoned. Couldn't a blow now be dealt to the Socialist Party councillors' irksome opposition to 'public services reform' (privatisation)? Four transfer ballots had been won since then - with Yes votes of 84%, 68%, 78%, and 86% - largely in south Lewisham.
After delaying the New Cross Gate ballot from autumn 2006, couldn't they move north and take on the socialists, helped by linking council properties in Telegraph Hill ward to those in the neighbouring 'Labour heartland' New Cross ward? A housing transfer 'Yes' vote would also discourage opposition to the proposed handover of Monson primary school in New Cross to Haberdashers' Aske's academy. The plan was set.
Vital campaigning
HYDE HOUSING Association was a willing accomplice. One of the largest in England, with 30,000 properties, it openly embraces New Labour's commercialisation of social housing agenda. It recently underwent a 'business culture change' programme, for example, "to make the organisation as a whole operate on a commercial basis", in the words of its chief executive, shifting "the traditional perception that 'not for profit' means 'no profit'." (Inside Housing, 14 September 2007).
There were high material stakes. With average house prices in Lewisham at £223,308, public assets of up to £290 million at market value were involved. Under questioning from Ian Page, the council revealed that Hyde would have paid "a maximum of £2 million", an average of £1,490 per home. This was a 'Russian-style' looting of public property!
And Hyde and the New Labour councillors planned a Putin-model one-sided 'election' to push it through. A £1 million budget financed teams of canvassers, four (staffed) 'Smart Home' show-houses, fun-days, summer barbecues, Christmas parties, DVDs and glossy leaflets. There were personalised letters from local MP, Joan Ruddock. No opposition voice was allowed at 'consultation events'. Some vocal anti-Hyde tenants never made it onto the 'eligible voters' list.
Before balloting, the council carefully assessed the likely outcome. RSM, a research company with clients including Barclays, BT and Virgin, charted opinion shifts from October 2006 to August 2007.
Their final results showed 44% favoured transfer, 25% opposed, and 30% didn't know. With 'don't knows' evenly splitting in other transfer ballots, the council predicted a 63.5% to 36.5% Yes victory (Lewisham mayor and cabinet report, 5 September 2007).
If RSM is accurate, what a stunning vindication of the Hands Off Our Homes campaign (with a £400 budget financed by tenants' donations), that we convinced all of the 'don't knows'! Actually, there is no question that our campaign made the difference.
Using figures from Hyde's own publications, council reports and government documents, we produced four leaflets and gave out on the doorstep a 22-page reply to Hyde's 94-page 'offer document'. We organised the only public meeting with both sides invited (the Labour councillors didn't show) and knocked on every door at least twice. Despite all the difficulties, our arguments hit home.
And there were difficulties. New Cross Gate is a microcosm of the situation in Britain today. There is deep resentment at public services 'marketisation' but a feeling that no powerful voice is offering an alternative. The Labour Party's transformation into an openly capitalist party has robbed working-class people of a vehicle for political representation and created a mood of resignation amongst some that a 'dog-eat-dog' society is unstoppable.
Pro-Hyde tenants reflected this. One leaflet argued that a 'No' vote risked Lewisham council "turning around and saying, you had your opportunity, tough, you're getting nothing" for Decent Homes works. The idea that working-class people - tenants, parents, trade unionists, health campaigners, etc - could throw out such councillors is not presently on their horizon.
New workers' party
On the other hand there were individual tenants who, with no point of reference for collective struggle, lashed out in opposition - one hand-written anti-Hyde leaflet was headed 'Scum Alert!' - until they came into contact with our campaign. All this shows the problems faced in fighting back in a political vacuum but also, conversely, the role that a new workers' party could play.
One victory in one corner of one London borough will not roll back New Labour's neo-liberal agenda. But it gives a glimpse of how the forces for a new mass workers' party could be assembled, the Socialist Party's vital role in struggle, and what will happen to the pro-market politicians once such a party comes into being.
---
>
"The first part of our battle is won"
MAURICE CASHMAN, a council tenant for over 40 years, told The Socialist: "It's a great result for Lewisham tenants. If we'd gone over to Hyde, it would definitely have cost us a lot. An equivalent house that Hyde own in our area costs £20 a week more than my rent. Within a couple of years, we would have been paying as much ourselves.
"Kender estate homes, in Telegraph Hill ward, have already been done up. We would have gained nothing except transfer to a private housing association if Hyde had won!
"If the council were that desperate to get rid of our homes, planning to sell them to Hyde for just £1,500 each, why didn't they sell them to the tenants for that and allow us to put our own kitchens and bathrooms in?
"The ballot covered two separate council wards. Of the six councillors, only two - Ian Page and Chris Flood - looked at all the facts and figures and opposed Hyde. The four Labour councillors just told us how wonderful Hyde would be.
"I'm very happy. The first part of the battle is won. Now we've got to make Lewisham come up with the money to modernise all the properties".
---
>
For decent homes, you need decent councillors
TO TAKE on the pro-Hyde tenants' (accurate) argument that Lewisham's Labour council had neglected homes in New Cross Gate, we had to explain what councillors who really represent working-class people would do instead. For decent homes you need decent councillors.
But that approach met with disapproval from the Socialist Workers Party-influenced officers of the national Defend Council Housing (DCH) campaign.
Early on, we wrote to DCH asking for information about ballot procedures. The reply from DCH officer Lesley Carty said: "DCH believes the way to win campaigns - as opposed to just posture and protest - is to bring together the largest number of people", including "councillors and members of all political parties". Expressing 'concern' with our campaign she concluded - scandalously - that only if we organised "a cross-party campaign then we'll be happy to help".
In fact our campaign did involve Labour-voting tenants. But nobody objected to pointing to the two Socialist Party councillors, who vote in the council chamber against above-inflation rent rises and for public funding for Decent Homes works, as examples of how councillors should behave.
And it would have been self-defeating not to do so, when an important argument was that council tenants have a weapon that housing association tenants don't - the right to change their landlords by voting for new councillors, including standing for the council themselves.
PDFs of the Lewisham Hands Off Our Homes campaign material, including our 22-page reply to Hyde, 'An Offer You Can Refuse', are available from Jess Leech at save.our.homes@ntlworld.com
Why not click here to join the Socialist Party, or click here to donate to the Socialist Party.
---
In The Socialist 10 January 2008:

Fight for socialism!

Defeat the pay limit

Feature: Socialism and democracy needed to reshape the world
---
Socialist Party workplace news

Postal workers fight to defend the Burslem 12

Scrooge employers attack shop workers

Building workers fight for real union representation

Fighting council cuts

Industrial news in brief
---
Socialist Party editorial

Renationalise the energy industry
---
Socialist Party news and analysis

Police ballot for industrial rights

Straw provokes POA

Soaring food prices hit world's poor

Big business hands off our NHS!

The privateers are taking over
---
International socialist news and analysis

Pakistan: Mass opposition to Musharraf regime after Benazir killing

Kenya: Stolen election explodes into mass anger and bloodshed
---
Socialist Party feature

Victory! Tenants beat £1 million sell-off campaign
---
Obituary

Obituary: Andrew Glyn
---
Socialist Party review

Review: Marx's Das Kapital: a biography, by Francis Wheen
---
Home | The Socialist 10 January 2008 | Join the Socialist Party
---