Link to this page: https://www.socialistparty.org.uk/issue/516/3627
From The Socialist newspaper, 17 January 2008
No to Brown's three-year pay deal
Fight for a living wage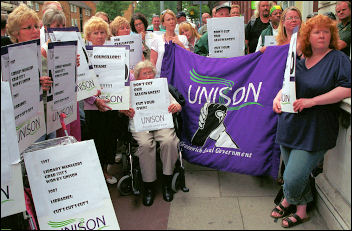 Greenwich council workers lobby the council, photo Paul Mattsson
PUBLIC-SECTOR workers will be outraged at Gordon Brown's recent statements. Not only are we expected to accept below-inflation pay deals - we are supposed to agree to being handcuffed to such agreements for three years!
Onay Kasab, Greenwich council worker
This is all about ensuring that pay for workers who provide vital services is kept low - and stays low for years. However, the government knows that workers are so angry over pay that the dam could burst this year and that even union leaders tied to New Labour cannot hold back the tide of frustration forever. That is why they want to tie public-sector workers into the next pay deals.
We are told that inflation is our fault! Try telling that to low-paid cleaners, school catering staff or council road-sweepers, especially when they see what our bosses earn.
There was no talk of 'pay restraint' when Greenwich council's chief executive accepted her £18,000 a year pay rise. Nor when heads of department received rises of £20,000 each.
Councillors now receive such high allowances, on top of their day jobs, that they exceed the average salary of a Unison union member.
Across the country, councillors have had no problem in agreeing huge increases in their allowances - basic councillor allowance levels in Greenwich grew from £1,000 a year to £10,000 over ten years while the council leader has gone from £4,000 to £61,155 a year!
The national bill for these allowances is now nearly £200 million a year. Public-sector workers are told to prepare for three more years of pay misery while public-sector bosses act like the worst private-sector fat cats.
Those who provide services to the elderly and vulnerable, who work in our schools and hospitals, are told we deserve 2% of almost nothing while those who cut jobs and services are rewarded with fat-cat pay rises.
The anger is building fast. The trade union leaders must not be allowed to get away with selling public-sector workers short. The government has made its intentions clear. The move to impose a strike ban on prison officers shows they are preparing for battles ahead.
Prison Officers' Association leader Colin Moses says he would actively discourage members from voting Labour - that is one indication of the mood. The police threatening to campaign for the right to strike is another.
Public-sector workers are ready and prepared to fight. We have learned the lessons from 2007 that a pay campaign needs to be conducted prior to the wage year, rather than during it.
We need united action across the public sector. We need union leaders who do more than talk tough, but who follow through on the members' behalf. When we reject a pay deal, we expect action. We do not want three-year pay deals. We want fair pay, we want decent pay and we want it now!
See editorial on page 2
Why not click here to join the Socialist Party, or click here to donate to the Socialist Party.
---
In The Socialist 17 January 2008:

Fight for a living wage

Burslem: Support victimised postal workers

Editorial: Fight three year low pay tie-ins
---
Environment and socialism

Stop nuclear power plans NOW!

Is the burning of fossil fuels causing climate change?
---
Sleaze

Hain's sorry saga of sleaze

Blair's rewards from big business
---
Anti-Cuts campaigns

Fire cuts threat to our public safety

Cardiff schools campaign grows
---
Housing Crisis

Nationalise Northern Rock - permanently

Growing crisis in housing
---
Socialist Party news

Save our post offices

Salford says: "Don't close our women's centre"

'Them and Us': news shorts
---
Trade unions

Feature: Building the shop stewards' movement
---
Socialist Party campaigning

Ideas for campaigning and fundraising
---
International socialist news and analysis

Sri Lanka: New year starts with atrocities

Biggest miners' underground occupation in Polish history
---
Socialist Party review

Review: More Time for Politics, Diaries 2001-2007, by Tony Benn
---
Socialist Party workplace news

Reinstate Karen Reissman - defend mental health services!

Derby nurses fight management attacks

Liverpool: City of Cuts

Vote Jim Cessford
---
Home | The Socialist 17 January 2008 | Join the Socialist Party
---