Link to this page: https://www.socialistparty.org.uk/issue/516/3639
From The Socialist newspaper, 17 January 2008
Cardiff schools campaign grows
FOURTEEN CARDIFF schools now face cuts and closures from the Liberal council, with many more set to join them.
Ross Saunders
Links are developing between some campaigns, including Lansdowne primary school, Llanedeyrn and Llanrumney.
A meeting on 23 January in Canton Community Centre at 7.30pm will trade campaigning ideas and plan joint action to defeat the council's programme. Lansdowne already plan to march on City Hall on 24 January at 3.30pm and could be joined by many other schools.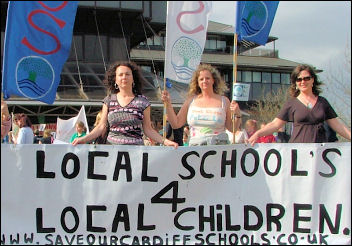 Cardiff parents beat council cuts in 2006, photo Socialist Party Wales
A united campaign, similar to the one which defeated these plans in 2006, is starting to develop. It could, if focussed on exerting maximum pressure on councillors, repeat the victory of two years ago.
If local councillors only oppose closures in their own wards while backing all the others, then all the closures will go ahead.
A joined-up Save Our Schools Campaign pledging to fight all attacks on Cardiff schools could extend pressure to all 72 councillors.
And if councillors refuse to act to save schools then parents and campaigners should stand against them in the May elections as Save Our Schools candidates.
Why not click here to join the Socialist Party, or click here to donate to the Socialist Party.
---
In The Socialist 17 January 2008:

Fight for a living wage

Burslem: Support victimised postal workers

Editorial: Fight three year low pay tie-ins
---
Environment and socialism

Stop nuclear power plans NOW!

Is the burning of fossil fuels causing climate change?
---
Sleaze

Hain's sorry saga of sleaze

Blair's rewards from big business
---
Anti-Cuts campaigns

Fire cuts threat to our public safety

Cardiff schools campaign grows
---
Housing Crisis

Nationalise Northern Rock - permanently

Growing crisis in housing
---
Socialist Party news

Save our post offices

Salford says: "Don't close our women's centre"

'Them and Us': news shorts
---
Trade unions

Feature: Building the shop stewards' movement
---
Socialist Party campaigning

Ideas for campaigning and fundraising
---
International socialist news and analysis

Sri Lanka: New year starts with atrocities

Biggest miners' underground occupation in Polish history
---
Socialist Party review

Review: More Time for Politics, Diaries 2001-2007, by Tony Benn
---
Socialist Party workplace news

Reinstate Karen Reissman - defend mental health services!

Derby nurses fight management attacks

Liverpool: City of Cuts

Vote Jim Cessford
---
Home | The Socialist 17 January 2008 | Join the Socialist Party
---