Link to this page: https://www.socialistparty.org.uk/issue/517/3654
From The Socialist newspaper, 23 January 2008
Looming recession...
Why should we pay for capitalist crisis?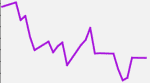 Stock markets crash
THE BOSSES and their capitalist system - based on greed and profits for the few - have fouled up Britain and the world big time.
Dave Carr
They give the impression that the world economic tsunami, which has already struck the US and is about to wreak havoc in Britain, is like a natural disaster, an 'act of God'. It is not! It's the failure of their profit system.
So who will pay the price for this failure? The super-rich, the financial wheeler-dealers, the top bosses? No, it'll be us! Already housing repossessions are expected to rise to 45,000 this year, up from 30,000 in 2007, a 50% increase.
And one in six households - that's four million - is living in fuel poverty in Britain, yet the government's latest energy bill makes no mention of this. Meanwhile, the largest six energy supply companies made a whopping £2,000,000,000 profit in just six months. But even this mountain of cash isn't enough for them, as they whack up gas and electricity prices by up to 23% for customers.
Under New Labour the wealthy have enjoyed an income and profits bonanza, doubling their wealth. As a result of the speculative frenzy on the stock markets the mega-rich have increased their incomes even further. However, to join this elite 0.1% of income earners you will need an average income of £780,000 a year.
But while real incomes of the elite grew by 6.6% a year on average, (while contributing only 4.3% of income tax revenue), low-paid health workers, teaching assistants, local government workers, civil servants, etc, are having to fight pay cuts under the government's 2%, three-year public-sector deals.
But before we complain, bear in mind that Gordon Brown and chancellor Alistair Darling are short of cash. They have had to guarantee £55 billion of our money to bail out Northern Rock.
But instead of nationalising it, the government will guarantee a sale of bonds to revive a potential buy-out for financial fat cats like Richard Branson. In other words, our money will guarantee the bank's debt to allow it to be taken over by another private bank to make a big profit! Northern Rock shares immediately rose as much as 55% in speculative trading as a result.
So how come New Labour and the capitalists can get away with this rotten system? Mainly because the working class is denied a political voice. Instead of funding a workers' party, many at the tops of the trade unions continue to spend our union political funds on supporting New Labour. Moreover, these same officials continue to hold back workers' struggles over low pay and against privatisation.
We need to change the unions to break with this government of the rich, by the rich, for the rich. Our union money and resources should be used to build a new left-wing party to represent workers' interests and those of the poorest in Britain.
The Socialist Party is working to achieve such a goal. Join us to end the rule of the rich and to build a society based on equality and fulfilling people's needs.
Donate to the Socialist Party
Coronavirus crisis - Finance appeal
The coronavirus crisis has laid bare the class character of society in numerous ways. It is making clear to many that it is the working class that keeps society running, not the CEOs of major corporations.
The results of austerity have been graphically demonstrated as public services strain to cope with the crisis.
The government has now ripped up its 'austerity' mantra and turned to policies that not long ago were denounced as socialist. But after the corona crisis, it will try to make the working class pay for it, by trying to claw back what has been given.
The Socialist Party's material is more vital than ever, so we can continue to report from workers who are fighting for better health and safety measures, against layoffs, for adequate staffing levels, etc.
Our 'fighting coronavirus workers' charter', outlines a programme to combat the virus and protect workers' living conditions.
When the health crisis subsides, we must be ready for the stormy events ahead and the need to arm workers' movements with a socialist programme - one which puts the health and needs of humanity before the profits of a few.
Inevitably, during the crisis we have not been able to sell the Socialist and raise funds in the ways we normally would.
We therefore urgently appeal to all our viewers to donate to our special coronavirus appeal.
---
In The Socialist 23 January 2008:

Why should we pay for capitalist crisis?

Shock of recession draws near
---
Workplace news

Strike against poverty deals in PCS

Marching behind the Burslem 12
---
Socialist Party women

New threats to abortion rights
---
Scotland

Defend Tommy Sheridan

SNP 'trusts' are PFI in disguise
---
Socialist Party campaign news

Tower Colliery closes: A brave attempt

Post office campaign: Changes in the law to break the poor

Keep Marksbury library open!
---
International socialist news and analysis

Bolivia at breaking point
---
Workplace analysis

NUT national executive: Left fighter stopped from standing

More work for less pay
---
Socialist Party workplace news

Shelter staff under attack from management

Cadburys close Keynsham factory

Council spends thousands fighting workers' pay claims

No more stooge union reps!
---
Home | The Socialist 23 January 2008 | Join the Socialist Party
---