Link to this page: https://www.socialistparty.org.uk/issue/517/3658
From The Socialist newspaper, 23 January 2008
Strike against poverty deals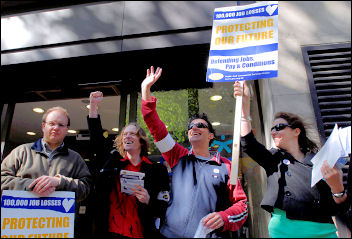 PCS on strike 1 May 2007, photo Paul Mattsson
Public and Commercial Services union (PCS) members in two of the largest government departments, the Department for Work and Pensions (DWP) and Revenue and Customs (HMRC) are gearing up for possible strike action on 31 January.
Mark Baker, civil service union PCS national executive (NEC), personal capacity
DWP members took two days of strike action before Christmas in response to management's imposition of a three-year deal giving just 2%, 0% and 1% to thousands of low-paid frontline civil service workers.
These are the sort of three-year deals which Brown would like to see implemented across the public sector. The PCS NEC, which met last week, agreed to continue "to pressurise the TUC for maximum co-ordination of united public-sector pay action and continue our dialogue with other public sector unions" and to clearly "publicise our opposition to three-year pay deals that cut the real level of pay and incorrectly blame public-sector workers for inflationary pressures".
Our members are the victims of inflation not the causes of it. The NEC also agreed to organise and approach other unions about a national lobby of parliament over government pay policy.
Over 70,000 members in HMRC are also being balloted as the department ploughs ahead with plans to close up to 250 offices and slash 25,000 jobs by 2011.
With 13,000 jobs now gone and a further 12,500 to go the service has already deteriorated, as the recent data loss shows. They are increasingly reliant on agency staff, overtime and private consultants to mask the immediate impact of job losses. Offices at the heart of communities servicing the public are facing meltdown.
As a result of the national action PCS members have taken so far, the government agreed to national talks for the first time. These talks are dealing with redundancy avoidance measures, relocation and contracting issues and the question of some elements of national pay agreements for the first time in over a decade.
These negotiations are backed with a clear mandate from members that further strike action should be called if further compulsory redundancies are announced during the talks. We have always been clear that these talks alone will not deal with public-sector pay restraint.
We will continue to support specific departmental groups in pay disputes. These are growing as more offers are rejected and we will co-ordinate this action where we can for maximum effect.
Over 160,000 members taking action together on 31 January sends a powerful message to government that our dispute is not over.
The likelihood of further strike action in other departments and continuing actions short of strike, confirms that the pay issue is still live and that members are determined to carry on the fight.
The pre-Christmas strikes in DWP were among the best-supported yet after 16 days of strike action in that department since 2004.
United public-sector action over pay in 2008 needs thorough preparation. The pension age campaign showed that where such action is planned and prepared for, it can force the government to retreat.
Donate to the Socialist Party
Coronavirus crisis - Finance appeal
The coronavirus crisis has laid bare the class character of society in numerous ways. It is making clear to many that it is the working class that keeps society running, not the CEOs of major corporations.
The results of austerity have been graphically demonstrated as public services strain to cope with the crisis.
The government has now ripped up its 'austerity' mantra and turned to policies that not long ago were denounced as socialist. But after the corona crisis, it will try to make the working class pay for it, by trying to claw back what has been given.
The Socialist Party's material is more vital than ever, so we can continue to report from workers who are fighting for better health and safety measures, against layoffs, for adequate staffing levels, etc.
Our 'fighting coronavirus workers' charter', outlines a programme to combat the virus and protect workers' living conditions.
When the health crisis subsides, we must be ready for the stormy events ahead and the need to arm workers' movements with a socialist programme - one which puts the health and needs of humanity before the profits of a few.
Inevitably, during the crisis we have not been able to sell the Socialist and raise funds in the ways we normally would.
We therefore urgently appeal to all our viewers to donate to our special coronavirus appeal.
---
In The Socialist 23 January 2008:

Why should we pay for capitalist crisis?

Shock of recession draws near
---
Workplace news

Strike against poverty deals in PCS

Marching behind the Burslem 12
---
Socialist Party women

New threats to abortion rights
---
Scotland

Defend Tommy Sheridan

SNP 'trusts' are PFI in disguise
---
Socialist Party campaign news

Tower Colliery closes: A brave attempt

Post office campaign: Changes in the law to break the poor

Keep Marksbury library open!
---
International socialist news and analysis

Bolivia at breaking point
---
Workplace analysis

NUT national executive: Left fighter stopped from standing

More work for less pay
---
Socialist Party workplace news

Shelter staff under attack from management

Cadburys close Keynsham factory

Council spends thousands fighting workers' pay claims

No more stooge union reps!
---
Home | The Socialist 23 January 2008 | Join the Socialist Party
---