Universities in crisis
Fees favour the rich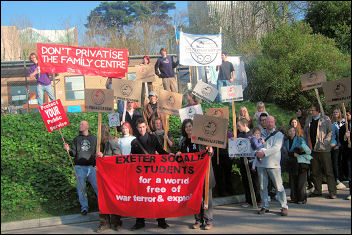 Exeter Socialist Students organised a protest outside the office of the university vice-chancellor, photo Exeter Socialist Students
SURPRISE, SURPRISE! A new study by the Sutton Trust charity shows that the university fees system favours the rich and those who attend private school.
Matt Dobson, Socialist Students national organiser
The government last week were hoping to be able to point to the 6.7% rise in university application figures in 2008, but the facts in this report are a damning indictment of New Labour's two-tier higher education system, where a debt-free, stress-free university experience is a privilege for the rich.
The rise in university applications is not proof that university is becoming more affordable. It remains to be seen whether a rise in applications will turn into a rise in admissions.
And, as the Sutton Trust study shows, these figures reflect the aspirations of many to learn and have the benefits of university but not the full reality of the financial difficulties involved.
Financial anxiety
One in four 18-24 year olds writes off going to university. The Sutton study reveals that nearly two-thirds of these young people cited financial anxiety as their reason for not applying.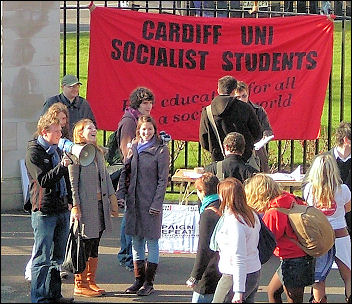 Cardiff Socialist Students campaign, photo Dave Reid
University is supposed to be a chance for young people to expand their horizons in knowledge and learning and leave home to live in a new town or city.
The Sutton report shows that students from homes with an annual income below £35,000 were more likely to consider a local university. Some 72% of those who were planning to live at home did so because they wanted to minimise their debts.
Many students are saying enough is enough. The 21 February Campaign to Defeat Fees day of action will see students in universities and colleges across the country protesting against fees.
This shows a glimpse of what is possible if a mass campaign based on mass action was built, linking up workers and students to force the government to scrap fees and to fight for free, publicly funded, good quality education for all.