Link to this page: https://www.socialistparty.org.uk/issue/525/3905
From The Socialist newspaper, 19 March 2008
Magic strike at Merlin school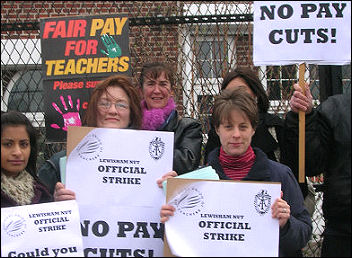 Merlin school teachers on their picket line, photo Martin Powell-Davies
On a windy morning in south London, teachers at Merlin school held a very friendly but determined strike.
Chris Newby
Teachers are angry that school governors with the backing of Lewisham council are planning to cut recruitment and retention payments to 11 teachers. This would mean these teachers would lose over £1,000 a year.
This payment helps to pay the childcare of one of the teachers. It has meant that for the first time in many years the school has been able to maintain a large core of stable staff. The only thing so far that the governors and council have been prepared to negotiate on, is to extend slightly the period before they cut this payment.
One of the things that has incensed the teachers has been the attitude of the governors who think they are being really generous by offering to extend the payment for a few months longer.
All 14 teachers were out on strike and they have been buoyed by the support they have been getting from local parents and other teachers. When they were leafleting the school to let parents know about the strike (because the school hadn't bothered to tell the parents), the parents were telling them to get a petition up and they would all sign it.
They've also been inundated with messages of support from around the country such as from Bolton and Birmingham.
Other teachers around Lewisham are watching this struggle because with 636 teachers across the borough on these payments, where will the council try next?
The teachers are determined to win and more strikes will follow if the council and governors refuse to back down.
Why not click here to join the Socialist Party, or click here to donate to the Socialist Party.
---
In The Socialist 19 March 2008:

Global economic crisis

Darling's 'more of the same' budget
---
Anti-war demonstration

Interest in socialist ideas on anti-war demo
---
National Union of Teachers Conference

Strike back against pay robbery!

Magic strike at Merlin school

School tries to evict pupils
---
Socialist Party youth and students

Fight for decent youth facilities

Socialist Students
---
Socialist Party workplace news

Anger and strength in the DWP workplaces

End the blacklist!

Support for Shelter staff

Pay more to get less

One law for them, another law for us

In brief
---
Socialist Party news and analysis

It's not that councillors can't fight...it's that they won't!

Sack the mayor - not the wardens!

Remote MPs' privileged lifestyle

Salford campaign reprieves women's centre
---
Post Office closures

No more post office closures!

Following the Essex road
---
Socialist Party congress 2008

Socialist Party 2008 congress

Building a campaigning, fighting socialist party
---
International socialist news and analysis

Portugal: Strikes and mass protests against government
---
Home | The Socialist 19 March 2008 | Join the Socialist Party
---