Link to this page: https://www.socialistparty.org.uk/issue/525/3907
From The Socialist newspaper, 19 March 2008
Support for Shelter staff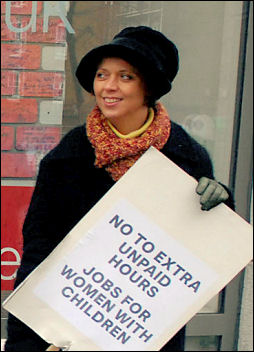 Shelter staff on strike, photo Paul Mattsson
At the last Manchester branch meeting, National Union of Journalists (NUJ) members decided to support Ken Loach's call to suspend standing orders giving money to Shelter until the Shelter dispute is resolved. The branch took this decision after listening to one of the Shelter stewards in Manchester, who came to talk about the strike.
The NUJ Manchester branch now calls on all members who have a standing order to Shelter to suspend this as long as the dispute is going on.
We will also take this initiative to the trades council meeting and call on the wider Mancunian trade union movement to take similar initiatives in their own organisations.
Christian Bunke
Shelter: Third strike suspended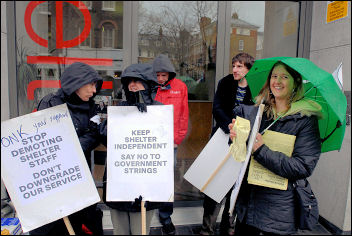 Shelter staff on strike, photo Paul Mattsson
AS a result of a second day of strike action, Shelter management sought preliminary talks with the union. These took place on 17 March and resulted in management agreeing to attend arbitration service ACAS for formal negotiations.
Before the strike action, management had been adamant that they would not return to talks and that they had nothing more to offer.
In addition, Shelter senior managers agreed to suspend the dismissal interviews and notices for those staff refusing to accept the new downgraded contracts. The union agreed to suspend the strike action planned for 19-20 March, pending the outcome of the ACAS talks.
A Shelter worker
Why not click here to join the Socialist Party, or click here to donate to the Socialist Party.
---
In The Socialist 19 March 2008:

Global economic crisis

Darling's 'more of the same' budget
---
Anti-war demonstration

Interest in socialist ideas on anti-war demo
---
National Union of Teachers Conference

Strike back against pay robbery!

Magic strike at Merlin school

School tries to evict pupils
---
Socialist Party youth and students

Fight for decent youth facilities

Socialist Students
---
Socialist Party workplace news

Anger and strength in the DWP workplaces

End the blacklist!

Support for Shelter staff

Pay more to get less

One law for them, another law for us

In brief
---
Socialist Party news and analysis

It's not that councillors can't fight...it's that they won't!

Sack the mayor - not the wardens!

Remote MPs' privileged lifestyle

Salford campaign reprieves women's centre
---
Post Office closures

No more post office closures!

Following the Essex road
---
Socialist Party congress 2008

Socialist Party 2008 congress

Building a campaigning, fighting socialist party
---
International socialist news and analysis

Portugal: Strikes and mass protests against government
---
Home | The Socialist 19 March 2008 | Join the Socialist Party
---