Link to this page: https://www.socialistparty.org.uk/issue/528/3982
From The Socialist newspaper, 8 April 2008
Lewisham/Greenwich
Socialist Party: A clear difference from 'free market' policies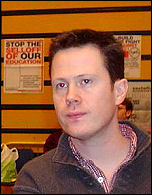 Chris Flood, Socialist Party councillor in Lewisham, photo Paul Mattsson
LAST MONTH Socialist Party members in Lewisham and Greenwich went on a demonstration against cutbacks at Queen Mary hospital, Sidcup. The Conservative Party tried to reduce it to a PR stunt for Boris Johnson's London mayoral election campaign. They trried to throw the Socialist Party off the demonstration and would not let Liberal Democrat mayoral candidate Brian Paddick speak.
James Kerr, Lewisham Socialist Party
We posed a question then. Where were Johnson and Paddick when an election wasn't in the offing or when members of their parties have swung the axe at our NHS? This shows the difference between the Socialist Party and all the main parties.
We are standing Socialist Party councillor Chris Flood for Lewisham and Greenwich constituency in the Greater London Assembly elections. This election draws together all the issues that the Socialist Party has fought hard on. It offers a real choice to those who see that an alternative is needed to the capitalist parties.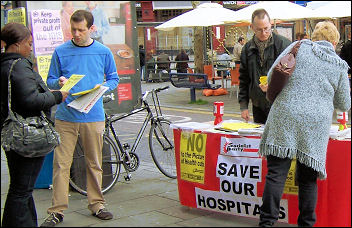 Lewisham Socialist Party campaigning against health cuts, photo Chris Newby
Last year the Socialist Party led the campaign against the sell-off of council housing in New Cross.
The Hands off our Homes campaign beat Lewisham council and Hyde housing association and the £1 million they pumped into the 'Yes' campaign by uniting local tenants, countering the council's arguments and offering the solution of the council borrowing £13 million to fund repairs.
Socialist Party members play a decisive role in Defend Education in Lewisham, which draws together those campaigning against the closure of special schools, the building of a primary and secondary school on an inadequate site and the merger of a local primary school with an academy. Socialist Party member and NUT branch secretary Martin Powell-Davies, has helped build this campaign.
In Greenwich Onay Kasab, also a Socialist Party member and Unison branch secretary, has campaigned and won a great victory on 'single status' attacks on the borough's council workers.
This unprecedented deal means none of Greenwich's workforce will face reduced wages to fund others' pay rise. With a fighting, socialist leadership, workers can be united and win!
On the NHS, the Darzi report and the Picture of Health consultation will mean cuts in each hospital across four south-east London boroughs. The Socialist Party is the only party to consistently call for a national 'save our NHS' demonstration. We organised the 1,000 strong feeder march to the NHS lobby of parliament and won decisive victories at Whipps Cross Hospital and in Kirklees, where Socialist Party member and local GP Jackie Grunsell was elected as a Save Our NHS councillor.
Chris Flood has a long record of defending the NHS. A health worker, he was instrumental in the 1990s campaign to stop Charing Cross hospital closing and as a councillor putting forward a programme for a publicly run, properly funded NHS.
Vote to put a real socialist in the London assembly! There is an alternative to the other parties' free market policies. The 1 May election will be a platform to build a strong socialist alternative in SE London.
Why not click here to join the Socialist Party, or click here to donate to the Socialist Party.
---
In The Socialist 8 April 2008:

Perks for MPs - Bonuses for the bosses - Cutbacks for us!
---
Socialist Party election campaign

London elections: working class alternative needed

Socialist Party: a clear difference from 'free market' policies

Exposing daylight robbery in Lincoln!
---
Socialist Party workplace news

NUT strike: No more pay cuts!

Defend the 4: Defend democracy in Unison

Unison health conference: Reject the pay sell-out!

Why should workers pay for the crisis?

Tube strike called off after winning concessions

Museum strike in Wales

NUJ conference

News in brief
---
Socialist Students

Struggle still essential

Get active and fight back!
---
Post Office closures

Winchester: 'We need our post office'
---
International socialist news and analysis

Zimbabwe: Mugabe plans to steal election

Olympic Games: Chinese regime fans the flames of protest

Ireland: "The most cunning and devious of them all" finally goes

Israel - Palestinian Land Day demonstration
---
Home | The Socialist 8 April 2008 | Join the Socialist Party
---