Link to this page: https://www.socialistparty.org.uk/issue/529/4020
From The Socialist newspaper, 16 April 2008
Huddersfield
Health campaigners fight council cuts
THE SOCIALIST Party in Huddersfield is now deep into its third straight year of election campaigning. The Save Huddersfield NHS campaign group was set up over three years ago to organise a fight against planned cuts to health services in the Huddersfield area. The campaign's success led to its decision to stand candidates in the 2006 local elections.
A Huddersfield Socialist Party member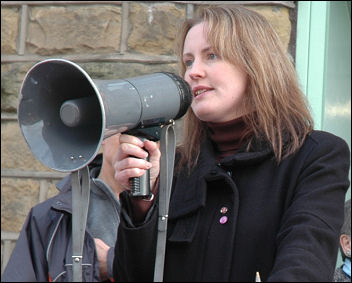 Jackie Grunsell, GP and councuillor, speaks at a Save Huddersfield NHS demonstration, photo Huddersfield SP
One of those candidates was Socialist Party member Jackie Grunsell, a doctor in the Crosland Moor and Netherton ward where she stood. The popularity of the campaign, and of Jackie as its radical face and voice in the local press, led to mass support in the elections and an overwhelming victory.
The campaign, and the Socialist Party inside it, stood Ian Slattery a year later and, despite an aggressive campaign from the standing Labour Party candidate, Ian won well over 1,000 votes, coming second in the ward.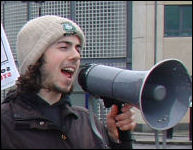 Ian Slattery, Huddersfield Save our NHS candidate
Ian is standing again this year, against another Labour councillor. Responses from canvassing continue to reflect the national trend - of anger at the government, the economy and the state of public services. Just as in the last two years, a number of people we meet are saying 'I've voted for Labour all my life but now I've had enough!'
This response is encouraging but it also shows how, in areas where a progressive electoral alternative is not available, support for not only the Tories and Liberals but even the racist, far right BNP can grow. It is no coincidence that voter turnout in Jackie's ward is amongst the highest, and the BNP vote amongst the lowest, in the Kirklees region of West Yorkshire.
Socialist Party canvassers have clearly explained the need for class unity and socialism if we are to end this increasingly maddening capitalist system.
Why not click here to join the Socialist Party, or click here to donate to the Socialist Party.
---
In The Socialist 16 April 2008:

'We're striking against low pay'

Birmingham strike

Editorial: 24 April strikes: step forward in pay battle
---
Unison witch-hunt

Unison witch-hunt: Defend 'the four'

Stop the witch hunts!

National Shop Stewards Network
---
Workplace news and analysis

Re-elect a fighting PCS leadership

News in brief
---
Global food crisis

Global food prices: anger erupts in mass protests

How the other 0.01% live
---
Socialist Party election campaign

Elections 2008

Health campaigners fight council cuts

Standing up for socialism: candidate list

Campaign for a New Workers Party - conference 2008
---
Socialist Party feature

The Human Fertilisation and Embryology Bill: why all the controversy?
---
Socialist Party news and views

Housing crisis: Britain's house of cards

Tax attack hits low paid workers

Water 'regulators' hide real prices
---
International socialist news and analysis

Rising class struggles across Europe

Italian election: new Berlusconi victory will provoke mass opposition

France 1968: 10 million workers occupied factories

France 1968: month of revolution by Clare Doyle

The radical life of Martin Luther King
---
Socialist Students

Portsmouth Activists Academy day of debate
---
Home | The Socialist 16 April 2008 | Join the Socialist Party
---