Link to this page: https://www.socialistparty.org.uk/issue/530/4026
From The Socialist newspaper, 22 April 2008
Support striking teachers
Prepare for an all-public sector strike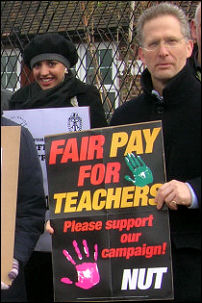 Merlin school teachers on their picket line in March 2008, photo Martin Powell-Davies
TEACHERS ACROSS England and Wales are out on the streets on 24 April, many on strike for the first time in their lives.
Linda Taaffe, Waltham Forest NUT
We will join mass demonstrations, being held in all major cities, in the first national NUT strike for two decades.
Thousands of schools will be shut. It is a day for teachers to make their voices heard and to teach the government a lesson - that they can't keep teachers' pay down to a miserly 2.45%.
If the three-year settlement is allowed to go through unchanged it will mean that by 2011 teachers will have suffered almost six years of below-inflation pay increases. Some on the very top of the pay scale could effectively lose up to £8,000 over that period.
With the terrible long hours teachers have to put in just to keep up with the demands of the job, no wonder 50% of new young teachers look at their pay slip, work out that they are being asked to work for something like £10 an hour, can't pay their rent, are still paying off student debt, now can't get a mortgage, don't even have time for a life outside school, and decide to jack it all in after only three years.
What a waste of talent, not to mention the cost of training! What a loss to our children!
After so long without any national strike action, and against a seemingly intransigent government, many teachers will be wondering, will they listen to us? We say Yes - but only IF the strike is the start and not the end of the matter.
Government ministers will be hoping to sit out this successful teachers' strike on 24 April. They will hope that, having let off some steam, we will settle back to 'normality'. We can't let that happen. We have to step up the action.
That means threatening to make the action bigger. On 24 April we are joined by 30,000 UCU college lecturers and 100,000 PCS civil servants in DWP, Land Registry, coastguards and others. But the pay restraint applies also to teacher assistants and support staff. It applies to hospital workers, firefighters, the police and also local government workers.
We need all the unions of these workers to threaten a massive public-sector strike. This could push the other teaching unions, namely the NASUWT and ATL, who so far have kept their distance, to come on board.
It needs to happen soon. It could happen in June when the TUC has called a lobby of parliament. If the union leaders called a strike so that thousands could go on a national demonstration and lobby in London, this would put the government under massive pressure.
Name the day
Unfortunately the TUC leaders want a low-key affair with a few representatives from each area. We need to agitate for the TUC to make 9 June a major event, and demand that the leaders of the 24 April action name the day for the next day of joint strike action and invite all other public-sector workers to join in.
However, achieving coordinated action across the public sector is notoriously difficult, due to both the time-scales of different pay rounds and the iniquitous anti-trade union laws. The National Union of Teachers (NUT) might have to plough ahead, while other unions try to coordinate their action with us.
And it would be entirely possible for the NUT to do this, especially if the next national teachers' ballot for action is not just about pay, but also about the biggest issue of all - workload, including demands to reduce class sizes and increase non-contact time, as a step towards a 35-hour week.
This would inspire even wider layers of teachers into active campaigning. The NUT has a quarter of a million members. There is a school in every community. Teachers have enormous potential power. We need the courage to use it.
With the credit crunch heralding a period of serious economic instability we must fight NOW for a 10% pay increase, 20% non-contact time and class sizes of 20.
In 2002 the NUT called two strike days for an increased London Allowance and achieved some real gains. If you do nothing you are guaranteed to get nothing. If you fight, you get something.
After the strike, things can't be the same in schools. Teachers can't settle back to 'normality' and let the government get away with it. They should get actively involved, keep informed and start preparing now for the next teachers' strike, while campaigning for joint action across the whole public sector.
Why not click here to join the Socialist Party, or click here to donate to the Socialist Party.
---
In The Socialist 22 April 2008:

The rich get richer... and we foot the bill!

Editorial: Brown's government lurching from pillar to post
---
Socialist Party workplace news

Support striking teachers

Shelter workers escalate action

Why DWP workers are striking

Oil workers to strike back at pensions threat
---
Socialist Party election campaign

Vote socialist on 1 May
---
Socialist Party news and analysis

Gloucester says... 'save our post offices'

Why drug firms should be nationalised
---
The Socialist Interview

Jersey - Growing anger against elite of secrets
---
Socialist Party feature

How can we defeat the far right?

Campaign to unionise migrant workers
---
Socialist Party review

'The Conscience of a Liberal' by Paul Krugman
---
International socialist news and analysis

Zimbabwe: Workers' strength stops arms shipment

Italy: Left leaders opened way for Berlusconi victory

France 1968: month of revolution. Speaking tour

France 1968: Book by Clare Doyle
---
Home | The Socialist 22 April 2008 | Join the Socialist Party
---