Link to this page: https://www.socialistparty.org.uk/issue/533/4092
From The Socialist newspaper, 14 May 2008
Anti-racists protest at Unison witch hunt
THE LETTER, below, was sent by MAKHAN S BAJWA, director of Greenwich Council for Racial Equality (CRE) to Unison general secretary Dave Prentis, to protest about the treatment of Onay Kasab, Greenwich Unison branch secretary (see front page).
A similar letter was sent by Dev Burrah, coordinator of The Racist Attacks Monitoring Unit in Woolwich, who has been active in anti-racist groups for 30 years.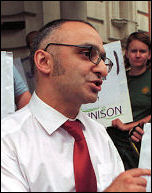 Onay Kasab, facing a witchhunt in 2008, photo Paul Mattsson
His letter says that Onay Kasab was part of Greenwich and Bexley Against Racism which organised 12 pickets of Bexley council's civic centre, demanding the closing down of the BNP HQ in Welling. He was also part of the committee that organised one of the biggest anti-racist, anti-BNP mobilisations in October 1993 where "65,000 people came to Greenwich to say no to racist attacks and racist murder."
Two years ago, Onay Kasab "was involved in a campaign 'empowering people to report racist crime' and mobilised for a public meeting which was attended by 385 people."
Dev Burrah's letter says Kas "is a true activist fighting racism and injustice and we have a lot of respect for him. I am appalled by the accusations."
---
>
Greenwich Council for Racial Equality
Dave Prentis
General Secretary
Unison
1 Mabledon Place
London WC1H 9AJ
9 May 2008
Dear Mr Prentis,
I, and my organisation have worked with Mr Kasab over a period of decades in campaigns opposing racism and fascism. The allegations against Mr Kasab are, in our view, unwarranted and wrong.
I understand that one of the allegations against Mr Kasab is that he should have exercised more care before putting the name of Greenwich Union on the leaflet, in anticipation that somebody may find it offensive. I have to say that I do not see how anybody can find the image racially offensive.
It is not just a well-known proverb or political satire, it is an image used for centuries with no racial connotation whatsoever. Indeed it is an image popularised by Gandhi. There is no way that it is reasonable for Mr Kasab to have anticipated possible offence being caused.
Actually, Unison needs to concentrate resources and funding on fighting the very real racism that exists together with the threat of the BNP. The union actions against Mr Kasab will, if you proceed, make Unison a figure of ridicule and you face losing members as a result.
And I can assure you, in Greenwich Unison members will leave in droves. Those who remain members will be demoralised and Unison in Greenwich will only be in name, without any agenda or direction.
This branch under the leadership of Kaz, has been combating the far-right propaganda against minority people and he himself now being branded as 'racist' is beyond the belief of any reasonable person.
We intend to use every opportunity to protest at these actions. I urge you to think again and to drop the action against Mr Kasab and his colleagues.
Yours sincerely,
Makhan S Bajwa
Why not click here to join the Socialist Party, or click here to donate to the Socialist Party.
---
In The Socialist 14 May 2008:

NHS under threat
---
Unison witch-hunt

Unison witch-hunt: Rory Bremner and Mark Thomas speak out

Anti-racists protest at Unison witch hunt

Unison witch-hunt: Defend the four lobby of hearing
---
International socialist news and analysis

Burma cyclone disaster: Wealth and privilege put before aid

60 year anniversary of Israel: Can there be a resolution of the Palestinian/Israeli conflict?

Scottish National Party: One year in power - but little for workers to celebrate

Global capitalist crisis: Confidence in a socialist future
---
Socialist Party women

Defend and extend abortion rights

Ladyfest: culture, politics and women
---
Socialist Party news and analysis

What will Boris Johnson mean for London?

Campaign for a new workers' party: conference 2008

Price rises hit workers

Don't evict Ricky Jones!

The BNP have no solutions...and no clue!

Sussex students uphold 'no platform'

Students 'study-in' in Manchester

Opposing cutbacks in Lincolnshire

Why Labour lost Bury
---
Socialist Party workplace news and analysis

Left wins in PCS executive elections

North west shop stewards

Saturday 28 June 11.30am-4.30pm

Wales TUC: Right wing attack on democracy

Socialist fighter honoured by lecturers' union
---
Socialist Party review

Review: 'Marx in London' by Asa Briggs and John Callow
---
Home | The Socialist 14 May 2008 | Join the Socialist Party
---