Link to this page: https://www.socialistparty.org.uk/issue/533/4115
From The Socialist newspaper, 14 May 2008
Marx in London
by Asa Briggs and John Callow
Reviewed by Pete Dickenson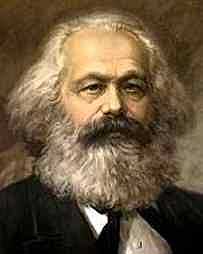 Karl Marx
This is a revival of the book first published in 1982 by the BBC to accompany a TV series of the same name, authored by the well-known academic and social historian, Asa Briggs.
Since the original edition was broadly sympathetic to Marx's life and ideas, I feared the worst, given the events of the past quarter of a century, when I saw it billed as a 'revised' edition. Fortunately, my reservations were short-lived, since the revisions, mainly consisting of new photographs and captions relating to Marx's life in London, only enhance the attractiveness of the book.
Karl Marx spent most of his life in London, from his arrival as an exile from the ebbing revolution in mainland Europe in 1849 to his death at his home in Kentish Town in 1883. The authors trace the Marx family's various places of residence, initially in Soho in the centre of the city, which was then a congregating place for political refugees, to their later homes in the then newly developed suburbs of north London.
There are some fascinating details provided of Marx's private life, warts and all, particularly in the early years when the family were struggling to survive in the filth and degradation of Soho.
Cholera
It was an area notorious for cholera epidemics, and Marx was devastated when his only surviving son, Edgar, died in an outbreak during his years in Dean Street. When Edgar was buried in the graveyard of the Whitfield Tabernacle in Tottenham Court Road (recorded now by a new plaque on the site) Marx had to be physically restrained from throwing himself into the grave.
When he was forced to leave Germany in 1849 in the political ebb-tide following the struggles in 1848, Marx was one of the revolution's most prominent figures and was consequently watched closely on his arrival in London by the spies of the victorious counter-revolution (a historical irony is that his chief persecutor was his brother-in-law, who was the Minister of the Interior in the reactionary Prussian government).
One of the spies got to know the Marx family and left a graphic and amusing account in one of his reports of everyday life in their household: "As father and husband, Marx, in spite of his wild and restless character, is the gentlest and mildest of men. Marx lives in one of the worst, therefore one of the cheapest quarters in London. He occupies two rooms, [...] in the whole apartment there is not one clean and solid piece of furniture. [...] In private life he is an extremely disorderly, cynical human being, and a bad host.
"He leads a real gypsy existence. Washing and grooming and changing his linen are things he does rarely, and he is often drunk. Though he is often idle for days on end, he will work day and night, with tireless endurance when he has a great deal of work to do. He has no fixed times for going to sleep and waking up. He often stays up all night, and then lies down fully clothed on the sofa at midday and sleeps till evening, untroubled by the whole world coming and going though the room".
As well as detailing the landmarks and events of Marx's life in London, including his work in the British Museum where he wrote Capital, the authors give plenty of background on the social conditions in which he lived and on the explosive development of the city as the world's leading metropolis of the 19th century. There is also an interesting section on other socialists who lived in London after Marx, such as Lenin and Trotsky and Marx's youngest daughter Eleanor, who played a key role in the development of the British labour movement.
The reissue of this small book is very welcome, not least since it illuminates what has increasingly become part of a hidden history of the left, in the move to the right that followed the collapse of the Soviet Union. It also forms an excellent guide for anyone planning a walking tour of Marx's London.
Marx in London, by Asa Briggs and John Callow. Lawrence and Wishart, London 2008.
Why not click here to join the Socialist Party, or click here to donate to the Socialist Party.
---
In The Socialist 14 May 2008:

NHS under threat
---
Unison witch-hunt

Unison witch-hunt: Rory Bremner and Mark Thomas speak out

Anti-racists protest at Unison witch hunt

Unison witch-hunt: Defend the four lobby of hearing
---
International socialist news and analysis

Burma cyclone disaster: Wealth and privilege put before aid

60 year anniversary of Israel: Can there be a resolution of the Palestinian/Israeli conflict?

Scottish National Party: One year in power - but little for workers to celebrate

Global capitalist crisis: Confidence in a socialist future
---
Socialist Party women

Defend and extend abortion rights

Ladyfest: culture, politics and women
---
Socialist Party news and analysis

What will Boris Johnson mean for London?

Campaign for a new workers' party: conference 2008

Price rises hit workers

Don't evict Ricky Jones!

The BNP have no solutions...and no clue!

Sussex students uphold 'no platform'

Students 'study-in' in Manchester

Opposing cutbacks in Lincolnshire

Why Labour lost Bury
---
Socialist Party workplace news and analysis

Left wins in PCS executive elections

North west shop stewards

Saturday 28 June 11.30am-4.30pm

Wales TUC: Right wing attack on democracy

Socialist fighter honoured by lecturers' union
---
Socialist Party review

Review: 'Marx in London' by Asa Briggs and John Callow
---
Home | The Socialist 14 May 2008 | Join the Socialist Party
---