Link to this page: https://www.socialistparty.org.uk/issue/534/4128
From The Socialist newspaper, 21 May 2008
After Brown's tax u-turn...
Step Up Fight Against Low Pay!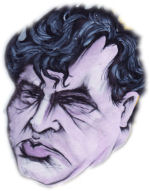 Gordon Brown, photo Suz
The abolition of the 10p tax rate (the hiking of income tax for those earning less than £18,500 a year) has become a powerful symbol of the contempt this government has for working people.
Tom Penman Dundee, Scotland
A 20-year old without children on £10,000 was made £109.96 a year worse off, and other low paid workers lost up to £232 a year!
While food and utility bills soar, wage increases for most workers lag behind. A recent poll for the Financial Times showed that internationally, the average income for those in the bottom fifth of the pay scale has fallen 2.5%.
Meanwhile record company profits, such as those of BA, Sainsburys and Shell, pile up. The government's belated and flawed attempt to redress the situation underlines their total inability to desist from their 'help the rich get richer at workers' expense' policies.
As a colleague at my call centre said when the abolition of the 10p rate was implemented: "Our tax has increased so that management's can be cut!" Reeling from the devastating blow of the May local elections, Labour has desperately scrabbled around for policies to regain some measure of popularity, lost due to their attacks on the working class and poor, and now wants to draw a line under the 10p tax robbery.
Despite claiming that there was no money available, the government has suddenly found £2.7 billion to give to tax payers by raising personal tax allowances - the amount you can earn before you start to pay tax on it - for this year's budget.
The Chancellor claims he is responding to the public's outrage. Backbench MPs and union leaders have cheered the move, and the Brownite MP John McFall said not welcoming the move was "nothing but churlish and mean".
But there is nothing mean about checking out some basic facts about this U-turn. 1.1 million households earning £6,035 to £13,355 will still lose out by up to £112 a year, and among them, childless workers under 25 or who work less than 30 hours a week will lose most as they don't get working or family tax credits.
Also, while the increase in income tax is permanent, this change in tax allowances is only for a year. Tax allowances are changed every year yet this government of spin and lies expects us to trust them that in a year's time they won't just revert to tax allowances similar to last year.
It would cost £6 billion to put the 10p income tax band back in place but the government claims this is too much. It would rather continue to make cuts to corporation tax for big business, or spend billions on occupying Iraq and on Trident weapons.
If we want a better standard of living we have to fight for it. Join the socialists and get active!
Why not click here to join the Socialist Party, or click here to donate to the Socialist Party.
---
In The Socialist 21 May 2008:

Step Up Fight Against Low Pay!

Force more u-turns out of this weak government
---
Housing crisis

Build Affordable Homes Now!
---
Socialist Party workplace news

Unison members say 'no' to witch hunt

Reasons to be cheerful about the trade unions

Public-sector workers say pay up!

National Shop Stewards Network second conference advert
---
Socialist Party campaigns

Give us back our Post Office!

Fightback saves Cardiff school

Southampton students: 'Don't gag us'

D-I-V-O-R-C-E

Glasgow: BNP not welcome here

100% rise for health bosses

Global food crisis

Them and Us: The great divide
---
Environment: Nuclear power

Nuclear industry's 'green' camouflage
---
London Olympics

London Olympics 2012: A great sporting occasion and a great profit-making opportunity
---
France 1968 - month of revolution

France 1968: Be realistic - demand the impossible!

International discussion on the way forward for socialists

Video: 'France 1968, month of revolution' London meeting

Campaign for a New Workers' Party conference
---
International socialist news and analysis

China: Earthquake disaster exposes regime's failings

Lebanon: Hezbollah routs pro-US Siniora government forces

Ireland: Vote no to Lisbon Treaty and EU militarisation!

France: Workers and youth resist Sarkozy's attacks
---
Home | The Socialist 21 May 2008 | Join the Socialist Party
---