Link to this page: https://www.socialistparty.org.uk/issue/534/4140
From The Socialist newspaper, 21 May 2008
Fightback saves Cardiff school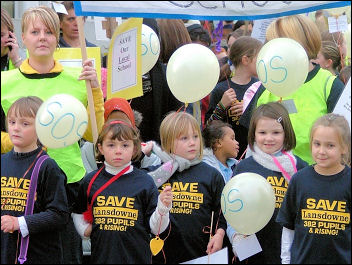 Lansdowne school demo, Cardiff, photo Socialist Party Wales
CAMPAIGNERS FROM Lansdowne Primary School in Canton, Cardiff are celebrating. Eight months of hard, well-organised campaigning by parents, staff and community members has saved their school - fighting back has won results! The victory is a huge boost to schools like Llanedeyrn, Cefn Onn and Llanrumney, which still lie under the axe.
Ross Saunders, Cardiff West Socialist Party, Unison steward, Fitzalan High School
The campaign forced school closures to the top of the agenda in recent council elections. Socialist Alternative candidates standing under the Save Our Schools banner gained respectable votes and Plaid Cymru were under pressure to oppose school closures on their 'home turf' in west Cardiff.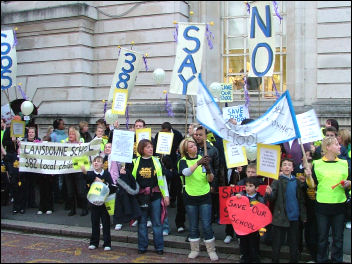 Lansdowne school demo, Cardiff, photo Socialist Party Wales
Plaid has now joined forces with the Liberal Democrats on the council executive. Under the power-sharing agreement, Cantonian High School will also remain open. A new school for overcrowded Welsh-language primary Ysgol Treganna, which would have moved into Lansdowne, will be built. But the school closures programme has not been withdrawn.
These developments expose local Labour councillors' lies. Tied to the Welsh Assembly agenda that drives the closures, they claimed building a new Welsh-language school was impossible without closing an English-speaking school.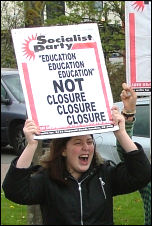 Cardiff school demo in 2006, photo Socialist Party Wales
Plaid, which faked 'left' in opposition, now either has to administer closures in Cardiff, or oppose its own party members in the Welsh Assembly government coalition with Labour.
Canton has won its battle for now, but campaigners expressed sympathy with other schools still on the closures list. People in other parts of the city will ask how Plaid can close schools in their area while saving those in their own backyard.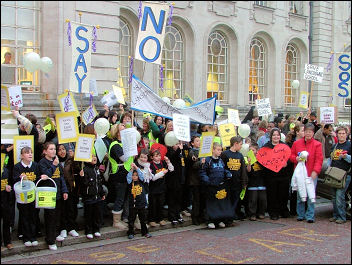 Lansdowne school demo, Cardiff, photo Socialist Party Wales
Socialist Party members, who supported the schools campaigns from the beginning, are calling for so-called "surplus places" to be redistributed amongst all Cardiff's schools, to lower class sizes and raise standards. We call for funding arrangements to be changed to allow this.
Colossal pressure has diverted the main parties from attacks in some parts of Cardiff, but until a new party acting in the interests of ordinary people is created, campaigners will have to keep fighting school closures and job cuts in education.
Why not click here to join the Socialist Party, or click here to donate to the Socialist Party.
---
In The Socialist 21 May 2008:

Step Up Fight Against Low Pay!

Force more u-turns out of this weak government
---
Housing crisis

Build Affordable Homes Now!
---
Socialist Party workplace news

Unison members say 'no' to witch hunt

Reasons to be cheerful about the trade unions

Public-sector workers say pay up!

National Shop Stewards Network second conference advert
---
Socialist Party campaigns

Give us back our Post Office!

Fightback saves Cardiff school

Southampton students: 'Don't gag us'

D-I-V-O-R-C-E

Glasgow: BNP not welcome here

100% rise for health bosses

Global food crisis

Them and Us: The great divide
---
Environment: Nuclear power

Nuclear industry's 'green' camouflage
---
London Olympics

London Olympics 2012: A great sporting occasion and a great profit-making opportunity
---
France 1968 - month of revolution

France 1968: Be realistic - demand the impossible!

International discussion on the way forward for socialists

Video: 'France 1968, month of revolution' London meeting

Campaign for a New Workers' Party conference
---
International socialist news and analysis

China: Earthquake disaster exposes regime's failings

Lebanon: Hezbollah routs pro-US Siniora government forces

Ireland: Vote no to Lisbon Treaty and EU militarisation!

France: Workers and youth resist Sarkozy's attacks
---
Home | The Socialist 21 May 2008 | Join the Socialist Party
---