Link to this page: https://www.socialistparty.org.uk/issue/534/4141
From The Socialist newspaper, 21 May 2008
Southampton students: 'Don't gag us'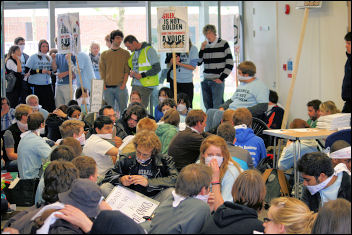 15 May, over 100 Southampton University students occupied the entrance to the lecture theatre due to host the University Court meeting, photo Southampton Socialist students
ON 15 May, over 100 Southampton University students occupied the entrance to the lecture theatre due to host the University Court meeting, a jamboree for elite dignitaries and corporate university sponsors such as HSBC bank and arms dealer BAe.
Clare Blackwell, Will Schafer-Peek and Gavin Marsh, Southampton Socialist Students
Students staged a silent sit-in outside the meeting, wearing gags to represent the silencing of the student voice, after the university's unilateral decision to remove the Southampton Student Union president's vote on the vice chancellor's appointment panel.
The vice-chancellor, Bill Wakeham, has systematically removed student votes from university committees, totally undermining the principle of student representation in the university. Meanwhile, the university woos investment from companies with dubious ethical records.
Companies like BAe Systems (who get the university to carry out arms research in return for research grants) and banking corporation HSBC have more of a say in running this university and others than students do.
Students were angry at the stifling of democracy and other issues such as increased fees, reduced contact time with tutors and non-existent lectures. This protest shows students are willing to take action to fight back against the effects of the university and government's neo-liberal agenda of marketising education.
Some students are meeting to establish a 'parallel university' which will host radical lectures, alternative film screenings etc. and will also be an organising centre to fight any deterioration in our education.
Socialist Students plays an active role in organising the fight-back at over 50 universities across the country and we will keep opposing the marketisation of our education.
Why not click here to join the Socialist Party, or click here to donate to the Socialist Party.
---
In The Socialist 21 May 2008:

Step Up Fight Against Low Pay!

Force more u-turns out of this weak government
---
Housing crisis

Build Affordable Homes Now!
---
Socialist Party workplace news

Unison members say 'no' to witch hunt

Reasons to be cheerful about the trade unions

Public-sector workers say pay up!

National Shop Stewards Network second conference advert
---
Socialist Party campaigns

Give us back our Post Office!

Fightback saves Cardiff school

Southampton students: 'Don't gag us'

D-I-V-O-R-C-E

Glasgow: BNP not welcome here

100% rise for health bosses

Global food crisis

Them and Us: The great divide
---
Environment: Nuclear power

Nuclear industry's 'green' camouflage
---
London Olympics

London Olympics 2012: A great sporting occasion and a great profit-making opportunity
---
France 1968 - month of revolution

France 1968: Be realistic - demand the impossible!

International discussion on the way forward for socialists

Video: 'France 1968, month of revolution' London meeting

Campaign for a New Workers' Party conference
---
International socialist news and analysis

China: Earthquake disaster exposes regime's failings

Lebanon: Hezbollah routs pro-US Siniora government forces

Ireland: Vote no to Lisbon Treaty and EU militarisation!

France: Workers and youth resist Sarkozy's attacks
---
Home | The Socialist 21 May 2008 | Join the Socialist Party
---