Link to this page: https://www.socialistparty.org.uk/issue/534/4151
From The Socialist newspaper, 21 May 2008
Coventry protesters say...
Give us back our Post Office!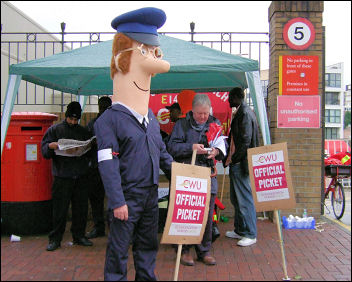 Postman Pat joins the CWU picket line in East London, photo Naomi Byron
ON 14 May, the postal workers' branch of the CWU union in Coventry organised a wreath-laying ceremony at Coventry's crown post office at Hertford Street which, like 70 others, has been privatised in a deal with WH Smith. The Campaign for a New Workers Party (CNWP) in Coventry produced a leaflet: Make it really the People's Post Office again! for the event. We print excerpts opposite.
WHAT THE war couldn't do, the privatisers at the Post Office have managed - shutting down our city centre post office! And don't let them tell you it isn't privatisation - WH Smith are getting over 70 city centre post offices and their customers just at the time their CD and book sales have been hit by the Internet.
And who pays the price? Well, the staff for one thing. One person from Hertford Street applied for their same job at WH Smith, and was told they would have to accept a £160 per week pay cut!
Next on the hit list is the local sorting office at Bishop Street, where 600 jobs are at stake. And recently there was the threat that the government may outsource to private business the payment of pensions and benefits, leading to a further 3,000 sub-post office closures. Government departments, like the Department for Work and Pensions, are already using private postal companies such as UKMail.
This Labour government is closing sub-post offices, privatising crown post offices and relocating sorting offices - all in the name of efficiency and competition. And when in March MPs had a vote seeking a review of post office closures, not one local MP who claims to be against closures supported the review. Just another example of Labour saying one thing - and doing another.
The government-appointed team reviewing the liberalisation of postal services (closures, competition, privatisation, reduced deliveries etc) recently said: "Liberalisation of the UK postal service has produced no significant benefit for either households or small businesses". Exactly! So why does the main postal workers' union, the CWU, continue to give its members' money to Labour, the party that's cutting its members' jobs?
It's time we built a new independent mass party for working people - one that would bring a great public service like the Post Office/Royal Mail back into full public ownership, and stop these damaging closures.
Why not click here to join the Socialist Party, or click here to donate to the Socialist Party.
---
In The Socialist 21 May 2008:

Step Up Fight Against Low Pay!

Force more u-turns out of this weak government
---
Housing crisis

Build Affordable Homes Now!
---
Socialist Party workplace news

Unison members say 'no' to witch hunt

Reasons to be cheerful about the trade unions

Public-sector workers say pay up!

National Shop Stewards Network second conference advert
---
Socialist Party campaigns

Give us back our Post Office!

Fightback saves Cardiff school

Southampton students: 'Don't gag us'

D-I-V-O-R-C-E

Glasgow: BNP not welcome here

100% rise for health bosses

Global food crisis

Them and Us: The great divide
---
Environment: Nuclear power

Nuclear industry's 'green' camouflage
---
London Olympics

London Olympics 2012: A great sporting occasion and a great profit-making opportunity
---
France 1968 - month of revolution

France 1968: Be realistic - demand the impossible!

International discussion on the way forward for socialists

Video: 'France 1968, month of revolution' London meeting

Campaign for a New Workers' Party conference
---
International socialist news and analysis

China: Earthquake disaster exposes regime's failings

Lebanon: Hezbollah routs pro-US Siniora government forces

Ireland: Vote no to Lisbon Treaty and EU militarisation!

France: Workers and youth resist Sarkozy's attacks
---
Home | The Socialist 21 May 2008 | Join the Socialist Party
---