Link to this page: https://www.socialistparty.org.uk/issue/390/4416
From The Socialist newspaper, 28 April 2005
Election Feature
Housing for need not profit
SO FEW houses are being built at affordable prices in Britain that even workers in jobs where there are chronic shortages cannot get on the 'property ladder'.
Chris Flood, one of two Socialist Party councillors in Lewisham, south London, says only public-sector housing, especially council housing, can provide the homes needed at an affordable price.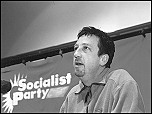 THE LACK of affordable quality housing is one of the most important issues of our time.
Ian Page addresses Socialism 2004
New homebuilding is at its lowest level since 1924 and this pushes up prices. 57% of 18-24 year olds still live with their parents. Spiralling housing costs, with student debt and benefit cuts, are putting independent housing out of people's reach.
Britain's housing crisis will only be solved by a radical change in current government policy. You can see the social neglect caused by the lack of a proper housing programme in every major city.
Since 1979, successive governments' assault on council spending together with their 'right-to-buy' policy forced the sell-off of many council houses and slapped restrictions on how councils could spend the cash. This put tens of thousands of homes out of reach for poor working-class families and even of many on a moderate income.
A Commons committee estimates that renovating homes through stock transfers costs £1,300 more per property than spending money through councils.
Blair's government, however, insists that councils can only bring in extra investment by hiving off their homes under one of three options: Transfers to housing associations, Private Finance Initiatives (PFIs) or arm's-length management organisations (ALMOs).
Council tenants
Council tenants are blackmailed into choosing between privately-run tenancies, stock transfer - where control would pass to a private board - or ALMOs where the council keeps some minimal input. If tenants want to remain with the council, they won't in future get money for repairs and refurbishment.
All these options would mean an end to council housing. They ignore an 8-1 vote against housing transfers and for a 'fourth option' of public-sector housing at Labour's last conference. But New Labour's obsessive pro-market approach to housing won't allow tenants to remain with councils and also give councils the cash for repairs and modernisation.
Tenants in some areas - Birmingham, Camden etc. - have turned down transfer of homes from council ownership. Camden tenants voted massively against transfer to an ALMO, even though £283 million was promised for refurbishment if the vote went in favour.
However, all the ballots are skewed heavily in favour of the government's agenda. As Frank Dobson said, "Local referendums on whether tenants would accept new management" threatened: "Vote for the ALMO and you'll get your house done up - don't vote for the ALMO and you'll live in a shit-heap forever more."
Save Lewisham Housing Campaign
In Lewisham after the Save Lewisham Housing Campaign convinced tenants to oppose transfer, the New Labour council merely transferred the management of the stock over to housing associations (HAs) which didn't require a vote!
Housing Associations cost more. Rents average £6.18 a week more than councils charge but the government want to raise council rents to HA levels. And HAs face real financial problems; 698 out of 2,100 HAs failed to submit accounts on time while 13 HAs have been taken over to avoid formal bankruptcy.
And as for the housing workers, only the fat cats benefit. Housing Association chief executives get pay rises three times the inflation rate!
Lewisham council is now trying to transfer all its stock and has brought in PriceWaterhouseCoopers to cut Housing Department jobs and services. Meanwhile over 16,000 people are on the housing list and far fewer are getting re-housed every year.
The government could easily bring council housing stock up to the standard it has set for 2010 if it invests in repairs and maintains local council control.
The campaign for a fourth option will continue, as will the call for the government to use existing revenue and funding - which it refuses to spend - in a way that could allow repairs to all council-owned housing.
But turning the tide on run-down council stock, poor housing conditions and growing homelessness needs real sustained investment in public-sector housing.
The Socialist Party campaigns for:
An end to housing privatisation!
High quality council housing for all - decent, affordable, secure and accountable.
Do the repairs, renovate our homes with no strings attached.
A tenants' vote on any changes - honest debate and equal funding for tenants' organisations and campaigns.
A massive building programme of public housing to meet need.

Democratic public ownership of the giant construction corporations, banks and finance companies. Cancel all local authority debts and give mortgage holders low-interest loans.
---
>
Socialist Alternative wins the student vote
FED UP with the policies and lies of the three major parties, students at Monoux College in Walthamstow, northeast London, gave resounding support to Socialist Alternative at a ballot held at the college gates last Thursday.
Sarah Sachs-Eldridge
The main issues were the war and occupation of Iraq, education and low pay. The ballot gave us an opportunity to discuss with many first time voters. Many of those who voted socialist will also do so on 5 May. It was the best activity we have done at the college in ages. We actually got people really talking about what they thought about politics and the world in general.
The Lib Dems have made some impact by giving the impression that they opposed the war in Iraq and top-up fees. Many students were definitely considering voting for them both in the mock ballot and the general election.
However, when we made the point that the Lib Dems had actually supported the troops going into Iraq and would be in favour of more privatisation while planning to ban public-sector workers from striking, many switched their preference to Socialist Alternative.
Most of the students had been thinking about the election but were totally turned off by the main parties. Many of those who voted Labour only did so for fear of the Tories getting elected.
Many people said that they did not intend to vote as none of the major parties represented them. We explained that that is why we are standing.
Young people and workers need political representation - that means a party that would spend the £5 billion that Labour has spent on war and occupation on education and health; that means a party that is opposed to privatisation and cuts.
This was not just a resounding vote for a socialist alternative but proof that it is not apathy with politics that is causing low turn-outs in elections - there were plenty of issues that students felt strongly about - but apathy with the main political parties who offer nothing to most people.
---
>
What's your MP worth?
Sheffield Socialist Party members held a city centre ballot last Saturday to publicise the commitment of our candidate, Mark Dunnell, to only accept the average worker's wage.
Alistair Tice, Sheffield
Most people agreed with us, over a third ticking the £20-25,000 box and more than half saying it was a good idea. Only six agreed with the £60,000 salary that backbenchers do get and none thought they should be higher paid.
A tram-worker wrote "£6.24 an hour - if it's good enough for me, it's good enough for them." Others commented: "It should be more in ratio with the general working-class public, extras should be means-tested." "They shouldn't do it for the money, but the good of the community."
It was a successful day - engaging hundreds of people, stimulating a lot of discussions, 23 socialists sold and four people interested in joining the Socialist Party.
And the press didn't turn up. Again! No wonder they're finding the election boring!
Why not click here to join the Socialist Party, or click here to donate to the Socialist Party.
---
In The Socialist 28 April 2005:

Vote Socialist on 5 May

Fighting the jobs massacre in Birmingham

Election Feature

Standing for socialism in Scotland

Leicester NHS phone in - socialists v. the rest

Needed - a new party for working people

Big business scuppers Jamie's school dinners

Britain's so-called 'booming economy'

Mukhtar Mai - a rape victim in search of justice in Pakistan

End world poverty

Why we celebrate May Day

Stalinism, socialism and capitalism

Labour's the problem not the answer

Usdaw - Need for change at the top
---
Home | The Socialist 28 April 2005 | Join the Socialist Party
---