Link to this page: https://www.socialistparty.org.uk/issue/394/4472
From The Socialist newspaper, 26 May 2005
G8 Protest: Demonstrate at the G8
Make capitalism history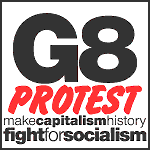 The millions of people who were moved by a sense of international solidarity to give money to the tsunami appeal are acting again. This time, however, they are not only donating money - they are demonstrating.
Hannah Sell
Already three million have pledged support for Make Poverty History and it is expected that a quarter of a million or more of them will demonstrate on the eve of the G8 meeting in Edinburgh on 2 July. Many will stay to participate in demonstrations throughout the week.
Everyone is supporting Make Poverty History - celebrities, churches, charities, national newspapers, school and colleges; politicians from Gordon Brown to Michael Howard. Of course, in reality New Labour and the Tories before them have failed to even increase aid to the UN target of 0.7% of national income.
Big business politicians
Both parties champion the policies of privatisation that are driving millions into poverty worldwide. But it is not the empty phrases of the big business politicians that is most significant about this campaign for socialists - it is the fact that they believe pledging to abolish world poverty will make them popular.
The mainstream politicians are being forced to respond to a deeply felt mood - shown by the anti-war movement and the tsunami appeal. Working-class people in Britain today are more internationalist than ever before.
It is crucial that the Socialist Party mobilise for this demonstration. In doing so we will meet tens of thousands of trade unionists, students and school students who have pledged to make poverty history and are looking for a means to achieve their goal. The ideas they are looking for are the ideas of socialism - we have to make sure they find them.
Why not click here to join the Socialist Party, or click here to donate to the Socialist Party.
---
In The Socialist 26 May 2005:

Brown bashes low-paid workers

Our rights under attack

BBC workers striking back at job cuts

Kick the fat cats out of football

G8 Protest - Demonstrate at the G8 - Make capitalism history

Germany - workers punish Schröder

Northern Ireland - fighting for socialism

Telecom workers' strike against privatisation

Left victory in PCS union

Defend NATFHE members, safeguard union democracy
---
Home | The Socialist 26 May 2005 | Join the Socialist Party
---