Link to this page: https://www.socialistparty.org.uk/issue/396/4497
From The Socialist newspaper, 9 June 2005
Brown spins but won't end debt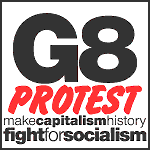 Gordon Brown - arm-in-arm with Oxfam - is proclaiming himself as the new champion of the poor and making his bid to be the next Prime Minister.
Gareth Davies
Is he really breaking from the New Labour mould, or simply issuing empty populist promises?
Brown intends to "reverse the fortunes" of Africa and pull millions of people out of poverty by writing off the debts of the world's poorest nations and doubling aid by 2010.
George Bush has already poured cold water on his proposals, earmarking a paltry $370 million, from money already committed to another aid budget, towards Brown's pet project. Compare this to the US defence budget for 2006 - a staggering $491 billion.
The World Bank estimates the total external debt stock (the total amount of debt) of the developing countries is around $2.5 trillion, with nearly two-thirds of that figure being owed to private western investors. Sub-Saharan African countries owe $68 billion to international institutions, but $220 billion to private lenders. So in cancelling all debt stock payable to public bodies, many countries would still be massively in debt, and Brown would just be ensuring that the private companies got paid.
Yet, in most cases it won't be the debt stock being wiped out. Rather, they will have their debt service (the periodic amount paid back plus interest) put on hold on condition of the country adhering to World Bank/IMF criteria (for this read privatisation and cuts in public spending).
A recent ActionAid report claimed that only 10 cents of every dollar of US aid is 'real' aid, with two-thirds wasted on 'phantom' aid, such as employing expensive Western advisers and consultants. Whether doubling aid would see a twofold increase in real aid is doubtful.
Brown's bold words are in fact thinly veiled attempts at deceiving the public whilst continuing to act on behalf of big business and the rich.
---
>
Charities like Oxfam are too close to New Labour
One of the biggest events of the G8 protests at Gleneagles will be the Make Poverty History (MPH) rally, which is expected to attract over 200,000 people. Oxfam is one of the main charities in MPH, a coalition of 450 non-governmental organisations (NGO).
Arwyn Thomas
This movement has been enthusiastically embraced by Tony Blair, who has been photographed wearing an MPH wristband, and Gordon Brown. The millionaire rock star Bono called Blair and Brown "the Lennon and McCartney of poverty reduction"!
Some NGOs accuse Oxfam of allowing New Labour to co-opt the movement for its own ends. An NGO spokesperson complained: "They have incredible access, and that has meant that Oxfam are the ones called to speak on behalf of the whole development movement.... They have decided that, in the longer term, their interest is best served by being in with the government."
Three years ago, Oxfam published a report that advocated the liberalisation of markets in the EU and other wealthy nations as the key mechanism for eradicating world poverty. This became the British government's position at the World Trade Organisation (WTO) talks at Cancun.
There is a revolving door of personnel between the charity and the Dept for International Development. This is the same department that recently awarded the Adam Smith Institute the lucrative contract to advise on privatisation of industries and public utilities in the 'third world', with disastrous consequences (see the socialist issue 394).
Oxfam's former director, Frank Judd, became a Labour peer in the 1990s and then Labour spokesperson on international development in the House of Lords. Justin Forsyth, Oxfam's director of policy and campaigns, moved seamlessly into the Downing Street Policy Unit. On the panel to choose his successor was Brown aide Shriti Vadera.
Vadera is well known to the rail unions. As SC Warburg's transport economist, she was deeply involved in rail privatisation, particularly the valuation of the BR rolling stock companies. These companies were grossly undervalued, allowing teams of BR managers to become multi-millionaires overnight.
She was then seconded to the Treasury to advise on Tube privatisation. When PPP policy came under enormous pressure, she was a hardliner in pushing the deal through. According to the transport writer Christian Wolmar: "Throughout the negotiations, she was particularly adamant about ensuring that control of Tube investment should not remain in public hands, and Kiley felt she was there to veto any vestiges of control with London Underground."
Vadera is now Brown's advisor on 'third world' debt. Privatisation has set back the rail industry decades. Free market fanatics, like Forsyth and Vadera, are not the solution - they are the problem. British officials at the WTO blurted out the government's real attitude when they told War on Want's John Hillary: "You have got to get real, the development agenda does not go very far. We have to be pro-business and pro-trade."
Blair is cynically using the MPH campaign to try to rehabilitate his image after Iraq, particularly with young people. Most of the people involved in the MPH campaign put in their time and effort with the best intentions but Blair will try to use the charities to subvert the aims of the anti-capitalist movement. It is essential that we put forward a clear socialist programme as the only way to really make poverty history.
---
>
ISR backs school student walkout
ISR supports the call to school students to come out on 6 July in protest against the G8 and their neo-liberal policies.
Sarah Sachs-Eldridge
Nationally, International Socialist Resistance (ISR) took the first initiative in calling for school student strike action against the war in 2003. However, it would be arrogant for ISR to claim we organised the strikes. Our initial call, along with that of other parts of the Stop the War Coalition, was seized upon by countless students as the best means of making their voice heard against the tumult of pro-war propaganda.
On the day the war started, hundreds of thousands of young people took to the streets internationally in opposition to the imperialist invasion of Iraq. Since then school students have taken part in many other struggles such as the tens of thousands of French school students who struck against attacks on education.
ISR calls on every young person who is angered and horrified by the poverty and inequality that blights our world to join our international youth camp in Scotland - from which we will be taking part in all the anti-G8 demos (see column for details). You will be joining with young socialists from all round Europe as we discuss and debate the only realistic way to make poverty history.
But we understand that not everyone will be able to come for the whole five days. If you cannot, but want to demonstrate your opposition to Blair and Bush and the rest of the puppets of big business, organise a strike or protest in your school or college.
We are appealing to the trade unions and student unions to provide transport for school students who want to come to Edinburgh on 6 July. We also support those who wish to plan local protests.
If you would like help or advice about organising a strike or protest at your school please don't hesitate to contact ISR on 020 8558 7947 and we can put you in touch with local ISR members and assist you in organising action.
We can also help you try to get the support of teachers, and, if (as is sometimes the case) your head teacher opposes your action and tries to intimidate students, we can help you defend your right to protest.
ISR stands in solidarity with workers and students around the world and defends the right to take strike action by all. We welcome the fact that so many young people are prepared to take international solidarity action against war and poverty.
---
>
International Youth Camp
A 4-star campsite in Strathclyde National Park in very pleasant surroundings with toilets, hot showers and cooking facilities. A coach will transport us to the different places we will be going to for meetings and protests.
Francois, a member of our Belgian sister organisation and a chef, will be ensuring the provision of tasty cheap food.
Each morning we will meet to discuss issues and developments and to make plans for the day. There will also be organised political discussions.
Transport
A coach will leave London at around midnight on 1 July from Kings Cross for those travelling from the South west, South east, East and Midlands. Other areas should look at getting student unions to organise transport but also where possible cars and minibuses driven by members will be very useful for the duration of the camp. There will be a coach back to London on 6 July for those who stay for the camp.
---
>
Saturday 2 July
Make Poverty History demo
A city centre venue has been booked for an international rally with speakers from all over Europe. A coach will leave at midnight for those who have come for the day.
---
>
Sunday 3 July
G8 alternatives forum
We have applied for several seminars on the question of socialism - what it is and how to get it. We have also booked a venue nearby for those who want to find out more about the Socialist Party and the CWI.
---
>
Monday 4 July
Faslane Nuclear Base blockade
---
>
Tuesday 5 July
Dungavel Detention Centre
A mass action at Dungavel to demand equal rights and free movement for all, and an end to detention and deportation of asylum seekers.
---
>
Wednesday 6 July
March against the G8
Gleneagles Hotel, Gleneagles, Perthshire or alternative venue.
---
>
Transport from London - £35 unwaged, £55 waged
Transport and camp - £85 unwaged, £105 waged
We need a £20 deposit by 10 June.
For more information
ISR: www.anticapitalism.org.uk, 020 8558 7947, PO Box 858,
London E11 1YG.
International Socialists : www.cwiscotland.org

cwiscotland@yahoo.co.uk

G8 pages on this site
Committee for a Workers' International:

www.socialistworld.net

cwi@worldsoc.co.uk
---
>
Mobilising for the G8 protests
Young people from Ireland are going to the G8
"I'm going to the G8 summit because I'm not happy with the way our money is spent. Instead of on guns and tanks to hurt people, it should be spent on aid and food to help people." James Wilkinson, a new member of Socialist Youth, expressed well the feelings of young people from Ireland travelling to the G8 summit.
Paul Murphy
We have received a very positive response in the North, where the opportunity to protest against Bush, Blair and Berlusconi is one not to be missed for many young people. So far, 11 people are booked to travel with us, and we are confident of filling the 19 places on our bus.
We have organised successful public meetings in Omagh, Enniskillen and Strabane on "Why you should protest at the G8". We also took part in a Make Poverty History rally in Belfast, explaining why Bob Geldof and Gordon Brown were incapable of making poverty history and why there was a need for a socialist solution.
In the South we have met political young people eager to protest against world poverty, environmental destruction and war. We have organised stalls around the theme of "Make capitalism history - make socialism our future".
By combining shocking statistics of world poverty and huge wealth, we have been able to convince people that they should protest with us at the G8 summit for a socialist alternative to the profit system. So far, 12 young people from the South are likely to come to the camp in July, and we will be going all out over the next couple of weeks to try to increase that number.
---
>
"Summat for the Summit"
WE HAVE set up 'Summat for the Summit' at Manchester University Students Union to raise awareness of the G8 and anti-G8 protests, demos and events.
Emma Linacre, Manchester University Socialist Students
Our society brings together students, charities, grassroots groups and other activists and we've sent reps to the 'Dissent!' weekend in Germany and held two events in the Students' Union.
The first was part of Fair-trade fortnight and provided an introduction to the G8 and potential anti-G8 action because we wanted to get more people involved. The second event was an all-day event and there were a series of talks in the morning on global issues and workshops on direct action and street medics in the afternoon.
About thirty people came to the first event and sixty to the second and both have brought new people into the society and boosted the confidence of existing members. 'The caravan of courage' is a fleet of minibuses that is being organised to get activists up to the G8 protests and provide accommodation, transport and food.
'Summat for the Summit' is calling to "make capitalism history" - a different system is needed, one that puts the needs of all people and the environment before that of big business and the rich.
---
>
London plans its campaign
Socialist Party and ISR members met in London on 30 June to plan for the G8 summit in July. We discussed the need to demonstrate our opposition and present the socialist alternative to supporters of the Make Poverty History campaign.
Ellen Buddle and Sarah Sachs-Eldridge
We decided to draw up a list of people that we would try to commit to coming to the youth camp and demo and committed our time to making leaflets and banners for the week of protest.
We then discussed ideas about how to raise money and support. We decided to set aside two days on 11 and 25 June to go into central London, leafleting and appealing for funds. We also plan to give trophies and certificates to the worst exploiters on the High Street in order to raise awareness of our campaign.
Why not click here to join the Socialist Party, or click here to donate to the Socialist Party.
---
In The Socialist 9 June 2005:

Join the G8 protests

Stop taking liberties!

Brown spins but won't end debt

Fight for the right to organise

Socialist students spearheads unionisation campaign in Leicester

Socialist Party gains on UNISON's NEC

Growing class struggles will increase tensions

Unions must fight Blair and Brown's plans

NATFHE members prepare for future battles

Pakistan: Strike resists Telecom privatisation

Bolivian workers fight privatisation and imperialism

Netherlands: An overwhelming 'No' vote to EU constitution

Largest union in Northern Ireland backs fight against water charges
---
Home | The Socialist 9 June 2005 | Join the Socialist Party
---