Link to this page: https://www.socialistparty.org.uk/issue/405/4605
From The Socialist newspaper, 25 August 2005
Gate Gourmet bosses sack 800
Defend workers rights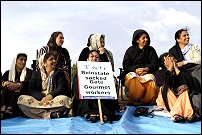 "I WAS treated like a slave."
These words from one of the sacked Gate Gourmet workers at Heathrow Airport sum up the brutal way these bosses treat their workers.
Chris Newby, London Socialist Party
These employers have the nerve to run to courts to complain about 'harassment'. Yet they are prepared to treat their workers in the cruel way that they have by cynically provoking action, effectively holding the workers hostage then sacking workers within minutes for not being prepared to accept far worse wages and conditions.
Gate Gourmet management even sent dismissal letters to workers on sick leave, maternity leave and holiday. People are incensed by the actions of this union-busting company.
But the British Airways (BA) workers who came out on strike in support of these sacked workers showed the best way to respond to these attacks with their marvellous act of solidarity. Workers around Britain and internationally were inspired when they saw the solidarity action of the BA workers.
In part this action stems from Gate Gourmet being linked to British Airways with many of the workers formerly employed by BA. But it also comes from a realisation that BA are planning more attacks on workers' wages and conditions. This was underlined by the takeover as Chief Executive by arch union-buster Willie Walsh, who was responsible for decimating the Aer Lingus workforce.
Already, over the last few years BA have been taking on workers at lower rates of pay than existing workers.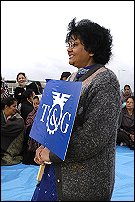 Gate Gourmet's management bleat that they may have to go into administration because of the losses they are sustaining.
But Gate Gourmet is owned by Texas Pacific, a company that specialises in buying up companies and downsizing them by vicious union-busting.
This is a company which has assets of $15 billion and whose boss, David Bonderman, has a personal fortune of $6 billion. Three years ago he spent $10 million (about the same amount they'd make each year by sacking the Gate Gourmet workers) on a birthday party which included bringing over the Rolling Stones.
This battle is vital not just for Gate Gourmet workers but for workers around Heathrow and beyond. The dispute can be won, if real leadership is given and the enormous strength of the Transport and General Workers union (TGWU) is used to the full.
This union has 30,000 members in Heathrow and amongst the airports suppliers. It should give a clear warning to Gate Gourmet and BA that if the workers are not re-instated immediately then the union will call upon its members in the airport to take strike action and should prepare the workers by calling mass meetings.
Why not click here to join the Socialist Party, or click here to donate to the Socialist Party.
---
In The Socialist 25 August 2005:

Defend workers rights

Gate Gourmet - solidarity action is vital

No more police cover-ups

Iraq: Bogged down in an unwinnable war

Gaza withdrawal: Will Sharon's pull-out lead to 'peace'?

Lewisham Socialist Party councillors support suspended MSPs

Campaign stops health closure plan

Build Socialist Students and fight education cuts

Rolls Royce workers vote for strike

First bus company raises fares and cuts services
---
Home | The Socialist 25 August 2005 | Join the Socialist Party
---