Link to this page: https://www.socialistparty.org.uk/issue/413/4697
From The Socialist newspaper, 27 October 2005
Socialist Students -
'active and clearly socialist'

THIS YEAR, Socialist Students has been distinguished as the 'active socialists' on campus, with an increased support for our ideas and campaigns amongst a growing socialist layer of students.
Zena Awad, Socialist Students, national co-ordinator
The freshers' fairs were a huge success, both for our existing societies and individual members who campaigned in about 80 universities in England and Wales. Many have reported a growth in our profile among students wanting a change in society and identifying themselves as 'clearly socialist'.
Over 1,000 students have joined Socialist Students in the last few weeks, with others interested in and wanting discussion on socialist ideas. Our meetings have been highly attended with the most popular ones being on 'What is Socialism'. Also, many have shown interest in joining the Socialist Party and coming to Socialism 2005 (details page 5). Socialist Students are booking minibuses in their students unions and raising money to take students to the Socialism weekend.
Students were impressed by the material on our stalls as it is produced by students and reflects the various campaigns our members are involved in. Around 800 copies of the Student Socialist, our magazine, have been sold to new members and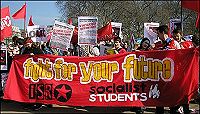 supporters, many of whom also bought the socialist.
Students have shown huge anger over student poverty, cuts and privatisation on campuses, which was reflected in the great response Southampton Socialist Students got to their 'Make Student Poverty History' campaign.
Enormous concern was also expressed by students over the increase in racism and attacks on civil rights, and the destruction of the environment. International issues like global poverty and war are also still in the background and were demonstrated in the good response we got to our slogan 'Capitalism means war and poverty, fight for socialism'. There has been interest in discussing Latin America and China and copies of the new Che Guevara book have been sold on many campuses.
Low pay
Last year, Leicester Socialist Students contacted trade unions on campus and successfully campaigned for their local students' union to take up issues like low pay and to promote trade union rights among students.
As a result, this year, all freshers received a joint Socialist Students and Amicus trade union leaflet in the post and on freshers' fair stalls.
In Exeter, Socialist Students will be initiating the 'Coca Killer' campaign to build the fight for trade union rights for workers in Colombia.
Among others, our Newcastle members have 'adopted' a workplace and a couple of colleges to do activities in and to link up with International Socialist Resistance (ISR).
In Liverpool, our members are taking up the high living costs for students and are building the opposition to the commercialisation of NUS. On many other campuses we are initiating campaigns in defence of our public services and doing solidarity work with staff fighting on the same local issues.
In the University of Manchester, Socialist Students initiated the campaign against privatisation of student halls and has now got the backing of the students' union.
We are also building the anti-war movement whilst campaigning against terrorism and racism. Socialist Students in Northumbria, Newcastle, Durham, Manchester, Liverpool, Sheffield, York, Huddersfield and Leeds Universities are building for the anti-BNP demonstration on 2 November and with the Socialist Party, will be campaigning for workers' unity.
In students' unions where elections to NUS conference have started, Socialist Students members are standing and campaigning for a democratic fighting NUS and for socialism.
Up and down the country, weekly Socialist Students meetings and stalls are now going ahead, consolidating our new members and building for Socialism 2005.
The enormous potential that exists for building socialism on campuses is due to the changed objective situation students find themselves in, but also due to our clear socialist ideas and the hard work of our members.
---
>
A LIVELY ISR (International Socialist Resistance) contingent headed up a 300-strong demonstration against the deportation of 'failed' asylum seekers in Cardiff on Saturday. Young people dominated the march against the deportation of asylum seekers to countries like Zimbabwe and Iraq. While the Foreign Office is warning people not to visit these countries the Home Office is insisting it is safe for political refugees to move back there!
The ISR's slogans of "No to war, no to deportation, spend the money on education" and "The workers united will never be defeated" were taken up by the whole demo as it marched through the city centre.
Why not click here to join the Socialist Party, or click here to donate to the Socialist Party.
---
In The Socialist 27 October 2005:

Keep 'the market' out of schools

United against fascism

Rioting in Lozells

Come to Socialism 2005

Conference for action needed for new mass workers' party

Socialist Students -

Pensions battle not over - but Labour in retreat

Stop these drastic hospital cuts

Defending trade union rights

The politics of relief: political manoeuvres begin
---
Home | The Socialist 27 October 2005 | Join the Socialist Party
---