Link to this page: https://www.socialistparty.org.uk/issue/423/4945
From The Socialist newspaper, 19 January 2006
Unite to save our NHS
BRITAIN'S BIGGEST chain of private hospitals, BMI Healthcare, is said to be 'discussing' with the Department of Health about taking over the management of NHS hospitals that are currently struggling with mounting deficits.
Roger Shrives
So the only 'solution' New Labour health minister Patricia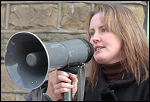 Hewitt has to the health service's growing financial crisis is to 'unleash competitive forces' on hospitals.
Dr Jackie Grunsell addresses demonstration in Huddersfield
But health workers and others involved in the many local campaigns to save the National Health Service would say that Hewitt's 'solution' has been the cause of their present problems!
The financial 'deficits' common in hospital Trusts were mainly brought about by New Labour's policies. Despite their increased health spending, Blair's government has opened up the NHS to private-sector profiteering. Their policies eat away at the fabric of the NHS, putting more and more services out to private companies and exposing our health to the hazards of the market.
Blair and Co. have also brought back the Tories' old 'internal market' mechanism that means hospitals are paid according to how many patients they treat, basing their calculations on crude average hospital costs. Hospitals that aren't 'average' start building up deficits.
The profit-hungry private sector is on the look-out for every way that they can make money out of our health and illness. No wonder that in towns and cities across Britain, the NHS' financial crisis is bringing resistance at local level.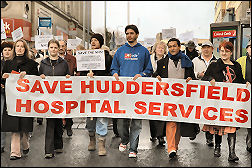 There have been protest marches in many areas, not only in towns such as Cambridge and Huddersfield but also in more rural areas such as Shropshire, Wiltshire, Westmorland and Lincolnshire. They are all campaigning to stop the closure and privatisation of NHS facilities which are threatened by New Labour.
What is clearly needed here is for these campaigns to be co-ordinated nationwide. Just think what impact a national demonstration against cuts and privatisation of the NHS would have on people throughout Britain. The campaign also needs to build support for national strike action by NHS workers to defend jobs and services.
---
>
FOR THE second time in four weeks, the people of Huddersfield gathered on 14 January to oppose the Calderdale and Huddersfield Health Trust's plans to transfer hospital services out of the town.
Iain Dalton, Huddersfield Socialist Party
Why not click here to join the Socialist Party, or click here to donate to the Socialist Party.
---
In The Socialist 19 January 2006:

Unite to save our NHS

1,500 March in Huddersfield

Growing anger at academies

Crime and anti-social behaviour

Build a political alternative to New Labour

Time for a new mass workers' party

Time for a political alternative

Are 'super unions' the solution?

Build for action

Visteon workers braced for attacks

Walk out prompts ASLEF ballot

Iran: Nuclear row raises fears internationally

One year on... where is the relief?
---
Home | The Socialist 19 January 2006 | Join the Socialist Party
---