Link to this page: https://www.socialistparty.org.uk/issue/423/4946
From The Socialist newspaper, 19 January 2006
1,500 March in Huddersfield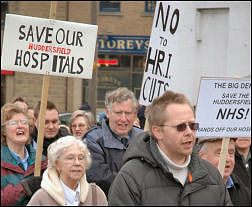 FOR THE second time in four weeks, the people of Huddersfield gathered on 14 January to oppose the Calderdale and Huddersfield Health Trust's plans to transfer hospital services out of the town.
Iain Dalton, Huddersfield Socialist Party
The plans include transferring gynaecology and children's wards, the special care baby unit, consultant-led maternity services and in-patient elective surgery to Halifax, whilst transferring emergency surgery the other way and closing a smaller local hospital.
30,000 signatures on petitions and floods of letters were handed into the Trust.
Then the massive demonstration - of 1,500 local people - sent a message to the self-interested Trust bosses.
The protesters were determined that their services should not be ditched to prop-up the failing PFI hospital in Halifax. Indeed, one Conservative Party councillor blamed this privatisation of the health service for these cuts, a bit hypocritically since this was, and still is, Tory policy.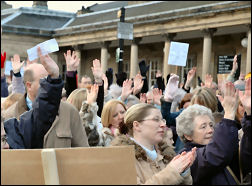 Several councillors have attended this and the December demonstration to 'show their support' for the Save Our NHS campaign. However, Kirklees council still won't give the people of Huddersfield the right to decide themselves in a referendum, claiming they cannot afford it.
However, the NHS trust can 'afford' these unelected bureaucrats to make their decisions against the democratic will of the people they affect. Mike Forster, a local trade unionist and Socialist Party member, told the crowd how, "If the money spent on the trust bosses' salaries was spent on the services, this would write off the Trust's current debt, fully fund all the services that are to be transferred and leave a surplus."
Although the supposed consultation period is finishing, local GP and Socialist Party member Dr Jackie Grunsell told the crowds: "We can still make the Trust listen to the people of Huddersfield, because the final decision won't be made until March. Because the council refuse to hold a referendum, we will make the up-coming local elections a referendum on these proposals".
Other Socialist Party members were also active on the demonstration, supporting the campaign's efforts and selling 57 copies of the socialist.
---
>
Wakefield and Pontefract
THE CAMPAIGN to retain all local health services and secure fully publicly funded new hospitals reaches its climax in the Wakefield area soon. As part of a centralising plan, Pontefract's acute General Infirmary will be reduced to a mere 45 - 120 beds - a glorified out-patients department.
Mark Harrison, Pontefract Socialist Party and Mick Griffiths, Wakefield and Pontefract Hospitals UNISON (personal capacity)
Services will be cut drastically and hundreds of jobs affected. Acute services for the Pontefract area would be shifted a further nine miles away.
The hospitals' Trust management have started an informal so-called 'engagement' process which, we believe, will try to muddy the waters and cover up the extent of the proposed cutbacks.
Wakefield Trades Council organised a lobby of New Labour MP Yvette Cooper's surgery on 13 January, to highlight local trade unionists' concerns about attacks on our public services. We are calling for a public referendum on the issue.
Our campaigning activities are receiving an excellent response and we are confident that a mass broad campaign of resistance will develop.
The decision to build downsized privately funded new hospitals is expected on 1 July. We will continue our decade-long fight to secure a fully retained and publicly funded service with petitioning, demonstrations and lobbies against the health authority, local MPs and councillors.
---
>
Socialist Party
Defend Pontefract Health Services
Speakers:
Adrian O'Malley (Wakefield & Pontefract Hospital UNISON)
Dr Jackie Grunsell (Leading campaigner in Huddersfield Save Our Services campaign)
Maria Thompson (Wakefield & Pontefract Hospital UNISON)
Public Meeting Monday 23 January
7:30pm
Pontefract Squash and Leisure Club, Stuart Road, Pontefract.
---
>
Fight all cuts in the NHS. No to redundancies.

Rebuild the NHS as a service free at the point of use. For a publicly funded NHS with immediate cash to end the crisis of under-funding and to stop cuts and closures.

End health privatisation. Scrap the Trusts. Bring health management and medical services under democratic control.

Unite the many campaigns already in existence to defend the NHS. For a national demonstration to build support for industrial action.
Why not click here to join the Socialist Party, or click here to donate to the Socialist Party.
---
In The Socialist 19 January 2006:

Unite to save our NHS

1,500 March in Huddersfield

Growing anger at academies

Crime and anti-social behaviour

Build a political alternative to New Labour

Time for a new mass workers' party

Time for a political alternative

Are 'super unions' the solution?

Build for action

Visteon workers braced for attacks

Walk out prompts ASLEF ballot

Iran: Nuclear row raises fears internationally

One year on... where is the relief?
---
Home | The Socialist 19 January 2006 | Join the Socialist Party
---