Link to this page: https://www.socialistparty.org.uk/issue/424/4958
From The Socialist newspaper, 26 January 2006
Striking to save jobs & services
Support the DWP workers' action

OUR MEMBERS in the Department for Work and Pensions (DWP) have come to the end of their tether. Staff are working more overtime than you can shake a stick at but even so, the department isn't coping.
Jane Aitchison, DWP national group president, Public and Commercial Services union (PCS), personal capacity
The crisis started in June 2004, when Gordon Brown announced that he intended to slash 70,000 civil service jobs, 30,000 of which would be in the DWP. So far we've lost about 15,000 jobs so we're about half way through their expected cuts.
Already, members are working under an incredible amount of pressure. The whole place is in crisis.
In many parts of the country, claimants are having to wait for around eight weeks to get their benefit payments dealt with. And last year over one million phone calls went unanswered. Those aren't our statistics, that was a BBC survey.
It's quite clear that a lot of poor, desperate and vulnerable people will have given up trying to ring the DWP.
They will be sitting in poverty as a result of these cuts.
Poverty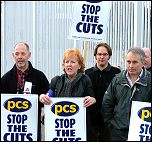 I've got absolutely no doubt that desperate people are not getting the benefits that they are entitled to because of this crisis situation.
Many customers are taking out their frustration on our members. Violent and abusive incidents are at an all-time high in our offices.
On top of all of that, management have taken a very hard line with staff in order to drain every last drop of productivity out of them.
They've just doubled targets overnight to try to get productivity up and they are sacking people who are off sick.
If you have eight days off sick you get a warning, a further four days you get a second warning and a further four days will result in you being sacked. It's a real 'three strikes and you're out' draconian policy.
They want to get rid of 30,000 people and they see this as an easy way of doing it. But obviously it increases the stress on staff to an all-time high.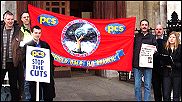 The highest number of staff off sick are off with work-related stress. They make the job so bad that you're stressed and then they sack you because you're off sick with stress.
Clearly it's a disgusting way for the government to treat staff and it's a disgusting way to treat customers.
We're striking on Thursday and Friday (26 and 27 January) to try to shame the government and our employer. PCS are demanding that they halt this cuts programme and work with the union to provide adequate staffing levels based on what the service needs, with no compulsory redundancies.
The government talk about their "respect agenda" but we would like to see them treating their employees and claimants with some respect.
Defend public services

Halt the job cuts

No compulsory redundancies
---
>
Privatisation brings threat of offshoring DWP jobs
A LEAKED internal document from the Department for Work and Pensions has revealed proposals to transfer civil service posts overseas.
Civil service union PCS president Mark Serwotka has demanded that the government rule out any plans to offshore public services.
This revelation comes at a time when the government is slashing jobs in the DWP, forcing a strike on 26 and 27 January to defend jobs and services.
It is clear these ideas are part of plans to privatise more public services to companies who could then try to ship public-sector jobs overseas.
As the BBC industrial correspondent commented, this could further "strain relations" between the union and the government.
Why not click here to join the Socialist Party, or click here to donate to the Socialist Party.
---
In The Socialist 26 January 2006:

Striking to save jobs & services

Fight cuts and closures

United action planned

City greed hits workers' pensions

PCS youth conference success

'Crisis in working class political representation'

Time for a new mass workers' party

A socialist world is necessary

An antidote to cuts, lies and corruption

Morales' presidential victory - a new phase in the class struggle

Chile: First woman president elected

Venezuela: Nurses protest in Caracas

Blair's 'high wire act' - heading for a fall?

Lincoln fights to defend council housing

Homophobia isn't the exclusive preserve of any religion

Scaring children into believing in Jesus
---
Home | The Socialist 26 January 2006 | Join the Socialist Party
---