Link to this page: https://www.socialistparty.org.uk/issue/424/4969
From The Socialist newspaper, 26 January 2006
Venezuela: Nurses protest in Caracas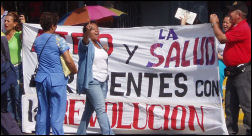 "WE WANT the president's ear and the health minister's head". Over 50 nurses were protesting outside the Miraflores - President Chavez's palace in Caracas, Venezuela. They had blocked the road and were faced by a line of military police barring their way to the palace.
Christine Thomas, at the World Social Forum in Caracas, Venezuela
"We work in the Barrio Dentro health mission," Karina told us. "All we are demanding is respect and dignity for the work we do. Like the Cuban doctors who come over here to help we go into the clinics in the poor areas and help the people who cannot afford to go to hospital. This is important work but we don't have proper rights. I and four other nurses were sacked for speaking out - for standing up for our rights".

"We haven't been paid for seven months," shouted another nurse. "We get well below the minimum wage. Just over 300,000 Bolivares (£100 a month). We don't have the right to social security".
"Chavez open your eyes to what is going on," read one banner. "We have a good president - the best there is," said one of the protesters. "But in the ministries and the government there is the same corruption as before. When we try to say what is going on then the door is shut in our faces - we've had enough"
"The right has infiltrated the government," Jaqueline told us. "They must listen to the people. We are the ones who know what is going on. We don't just want a constitution, we want to participate and reclaim our rights. As women - we need the revolution - we need equality and social justice. This protest is successful. They tremble because they know we tell the truth".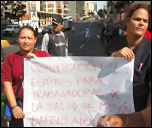 We wished them well as we left and asked them how long they would be staying. "As long as it takes," they replied.
Following the 2006 World Social Forum, Socialist Students/International Socialist Resistance will be holding a series of Venezuela solidarity meetings at colleges in England and Wales. For details phone 020 8988 8791.
Why not click here to join the Socialist Party, or click here to donate to the Socialist Party.
---
In The Socialist 26 January 2006:

Striking to save jobs & services

Fight cuts and closures

United action planned

City greed hits workers' pensions

PCS youth conference success

'Crisis in working class political representation'

Time for a new mass workers' party

A socialist world is necessary

An antidote to cuts, lies and corruption

Morales' presidential victory - a new phase in the class struggle

Chile: First woman president elected

Venezuela: Nurses protest in Caracas

Blair's 'high wire act' - heading for a fall?

Lincoln fights to defend council housing

Homophobia isn't the exclusive preserve of any religion

Scaring children into believing in Jesus
---
Home | The Socialist 26 January 2006 | Join the Socialist Party
---