Link to this page: https://www.socialistparty.org.uk/issue/432/5078
From The Socialist newspaper, 23 March 2006
Socialist Party members protest against Labour education minister Ruth Kelly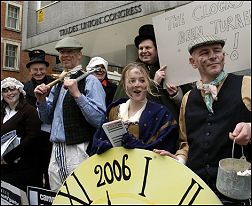 Socialist Party members protesting against Labour education minister Ruth Kelly
NO IT'S not a stage version of Oliver but Socialist Party members (above) protesting against Labour education minister Ruth Kelly, who was addressing a TUC sponsored conference last Friday on Labour's education bill.
The bill's pro-big business measures, along with Labour's other privatisation policies, will turn the clock back a century in terms of public service provision.
Play Video:

Broadband 576kbps  or Broadband 340kbps
The protest was given extra significance in the wake of new sleaze allegations over Labour's funding. The protest also generated media publicity ahead of the Campaign for a New Workers' Party conference on 19 March.
Inside the conference Ruth Kelly got a roasting when she spoke. Despite restricting the 'debate' to answering written questions only, she convinced no-one present that the legislation would raise standards in secondary education.
Lewisham teacher and Socialist Party member Martin Powell-Davies was roundly applauded when he tabled a question asking: "why, if privatisation has proved so disastrous for other public services, is the government going down the same road in education?" Ruth's 'answer' was to simply deny that the Bill was a form of privatisation.
Another Socialist Party member and UNISON executive council member, Raph Parkinson, bluntly asked her: "Why is the Labour Party carrying out Tory policy?" Again she denied the charge - although she didn't explain why the Tories voted for the bill!
A headteacher from a Tower Hamlets school carefully explained how the gap between pupil 'achievers' and 'non-achievers' is already widening and how the provisions in the Education Bill will make the situation worse.
Kelly was left floundering, unable to provide any evidence to back up Labour's claim that the bill's measures would help improve education standards.
Why not click here to join the Socialist Party, or click here to donate to the Socialist Party.
---
In The Socialist 23 March 2006:

Hands off our pensions!

How to win the battle to defend pensions

Time for a new workers' party

Successful Campaign for a New Workers' Party launch conference

Socialist Party members protest against Labour education minister Ruth Kelly

France: Millions protest against Villepin government

Iraq: A three-year nightmare

Can the Israeli-Palestinian conflict be resolved?

How to plan a revolution

Fight to save the NHS

Lewisham: Socialist Party takes up the fight against ALMOs

Fight privatisation in universities and colleges

Sheffield bus protest blocks the road

NUJ Conference: Defending pay and conditions
---
Home | The Socialist 23 March 2006 | Join the Socialist Party
---