Link to this page: https://www.socialistparty.org.uk/issue/442/5239
From The Socialist newspaper, 1 June 2006
Healthworkers say...
'Stop the NHS cuts, end low pay'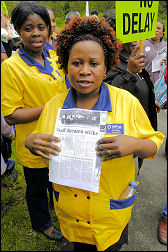 "LOW PAY no way." "They say cutback, we say fightback." Hundreds of porters, cleaners and other hospital staff held a lively lunchtime protest outside Whipps Cross hospital in northeast London on 26 May.
The hospital Trust is considering axing 400 jobs and closing four wards and two theatres. £15 million could be cut from primary care. The Trust is paying a 'turnaround' manager £1,200 a day to decide where the axe should fall! Patients, visitors and staff are being asked to write on a big suggestions board in the hospital to advise the turnaround team. "Turnaround and f*** off" was the choice advice of some staff.
Private company Rentokil/Initial have cynically jumped on the cuts bandwagon, announcing they are getting rid of five cleaning jobs and refusing to implement an agreement to improve the wages and conditions of ancillary workers.
LEN HOCKEY, a porter and joint branch secretary of the public sector UNISON at Whipps Cross told the socialist:
"This is what happens when the market and privatisation are introduced into the NHS.

We had a campaign in 2003 in conjunction with other health branches in northeast London to end the inequality of treatment of workers who work for the private sector and to have pay and conditions harmonisation with NHS staff. Whipps Cross took industrial action and we were successful and won an agreement.

We had a number of pay rises arising out of that and the full package was due to be delivered on 1 April. Rentokil/Initial, who have been in the contract for two years, admitted that it is incumbent on them to deliver this but they're dragging their feet and failing to do it - so we're mobilising members once more.

They're trying to boost profits off the backs of the lowest-paid workers, some of whom are on just £5.52 an hour and have no pension or sick pay rights. Porters and domestics are not the problem, we're the ones with the problems. We can't pay our rent, our council tax and our energy bills.

We're looking at the question of industrial action and we're putting pressure on the Trust who have given the contract to this company. The message is clear if they don't honour this agreement then they should be dismissed. They're in here, employing a predominantly female, black workforce and it's an outrage that they're treating people in this manner. When we don't do our job properly they're quick to come down and threaten us with all sorts. Rentokil/Initial should be sent packing and the hospital bring us back in-house if necessary.

Waltham Forest save our NHS campaign has been launched, uniting hospital staff and the local community. We are also linking up with similar campaigns that are happening all over the country and demanding that our union name the day for a national demonstration against the cuts. We will be doing everything we can to stop these attacks and secure our rights."
---
See also "We're seeing the Americanisation of the NHS"
Donate to the Socialist Party
Finance appeal
The coronavirus crisis has laid bare the class character of society in numerous ways. It is making clear to many that it is the working class that keeps society running, not the CEOs of major corporations.
The results of austerity have been graphically demonstrated as public services strain to cope with the crisis.
The government has now ripped up its 'austerity' mantra and turned to policies that not long ago were denounced as socialist. But after the corona crisis, it will try to make the working class pay for it, by trying to claw back what has been given.
The Socialist Party's material is more vital than ever, so we can continue to report from workers who are fighting for better health and safety measures, against layoffs, for adequate staffing levels, etc.
When the health crisis subsides, we must be ready for the stormy events ahead and the need to arm workers' movements with a socialist programme - one which puts the health and needs of humanity before the profits of a few.
Inevitably, during the crisis we have not been able to sell the Socialist and raise funds in the ways we normally would.
We therefore urgently appeal to all our viewers to donate to our Fighting Fund.
---
In The Socialist 1 June 2006:
---
Socialist Party NHS campaign

'Stop the NHS cuts, end low pay'

"We're seeing the Americanisation of the NHS"
---
Environment: Nuclear power

Blair goes nuclear
---
Socialist Party campaigns

Can the Tories win the next election?

A strategy to take on New Labour
---
International socialist news and analysis

Iraq - lame duck leaders have no solution

Brazil: Hundreds killed by brutal military police

Massaker
---
Socialist Party Marxist analysis

'Correction' or crash?

Crisis in the Scottish Socialist Party
---
Socialist Party workplace news

PCS conference: The record of a campaigning union

Drivers strike over tax bills

Tesco goes west - with non-union job ads
---
Home | The Socialist 1 June 2006 | Join the Socialist Party
---