Link to this page: https://www.socialistparty.org.uk/issue/442/5240
From The Socialist newspaper, 1 June 2006
Whipps Cross Hospital:
"We're seeing the Americanisation of the NHS"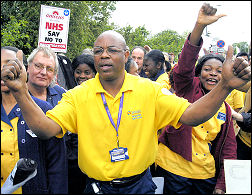 OVER 30 people, many of them health workers, came to the first Waltham Forest Save our NHS campaign meeting. Len Hockey, UNISON joint branch secretary at Whipps Cross hospital, outlined the attacks that the hospital Trust, the PCT and Rentokil/Initial are trying to make.
Health workers spoke about the climate of intimidation and fear in the hospital with everybody worrying about their jobs. Whipps Cross has already been on red alert and now 400 jobs are under threat. "There is so much tension. People are losing it and it's not good for patient care," said one health worker. "Patients are being put at risk," said one nurse. "We need to be physically and mentally alert. It's inevitable that minor and even major mistakes will be made if these cuts go through".
"If they close the care of the elderly ward patients will not get the specialist treatment they need". "Patients are going out of the back door and then coming back in through the front," added another.
A trainee nurse explained how she wanted to sit and hold the hand of a dying patient who had no relatives or friends. Her ward sister said she couldn't because she wouldn't get authorisation for overtime on the time sheets! The nurse stayed with the patient until she died but on her own time.
There is no deficit in the PCT yet £15 million in cuts are being proposed. District nurse posts are being frozen and school nurses are under threat.
"We pay taxes and we're being led to the slaughterhouse," one health worker told the meeting. "Where will the capacity come from?" asked another. "It will be the private sector. We're seeing the Americanisation of the NHS".
Most people at the meeting put down their names to be part of an organising committee. Many said they would support the lunchtime protest the following day (see photo right).
It was agreed that a local demonstration would be held as soon as the cuts were confirmed and that maximum pressure would be put on the UNISON union's national leadership to organise a national demonstration against the cuts as agreed at UNISON health conference.
---
Health workers speak out
HEALTH WORKERS at the Whipps Cross hospital protest told the socialist why they were protesting.
"It's not just about job cuts and pay. They've also been cutting the overtime and just making life harder for everyone. It's not getting any better. There's a few people who could be made redundant. Everybody is really worried about what's happening. You don't feel like coming into work. We definitely need a strike or something. Something has to be done. That's the way forward."
A Whipps Cross porter

"They're picking on the wrong people, on the people that do the work and keep the hospital going. It's disgusting."

Kenny Welsh, Porter

"We are underpaid. We need better working conditions. And we get treated like rubbish."

Porter

"I'm here today because patient care is a priority and not a compromise. We need people to help us to save the nurses because we are the ones that ultimately save the patients."

Adele, auxiliary nurse

"We're here today campaigning because we want equal pay with the NHS staff. We do exactly the same work why don't we get exactly the same pay? All we're fighting for is a few more holidays, the same as our NHS colleagues get and the right to sick pay because we don't have that right at the moment. We just can't afford to be sick. If we're sick we have to come into work which isn't right. And it isn't healthy for us to do that."

Vanessa, switchboard operator

"I've worked in the NHS for a long time, I was here before they privatised and I've seen how they treat people and don't want to see it happen again. There are a lot less cleaners now than there used to be and I think that's contributed to MRSA. They think cleaners are at the bottom of the scale but we are very important."

Hillary, domestic

There's so much uncertainty. We don't know what's going to happen. But the union and the Waltham Forest Save our NHS campaign are working for us. We hope we get what we want.

Mohammed, domestic
---
When profit comes before health
THE GOVERNMENT talk about the importance of a healthy diet, but their market-based policies are forcing many hospitals to have unhealthy burger bars on their premises. Some NHS trusts, faced with huge deficits, are bringing in burger bars and cafˇs run by major chains to get higher rents.
So, Burger King has four outlets in hospitals, including one at Addenbrooke's Hospital in Cambridge, which specialises in heart patients.
They often replace hospital cafˇs staffed by volunteers from groups like WRVS, that can't afford to pay the same level of commercial rent. In the past, they were charged low rents for running cafˇs and paid back any profits to the hospitals. But now the domination of market forces in the NHS means that food venues of dubious health value will prevail.
The shops are run on a franchise run by Medirest. They are part of the Compass Group who also own Scolarest, the firm that tried to palm off fat- and salt-ridden junk food such as Turkey Twizzlers on our schools until a media campaign stopped them.
New Labour's market policies mean that profit comes before health in both the NHS and education - and that's outrageous.
---
Gloucestershire
Fighting for our services
HEALTH CARE in Gloucestershire faces devastation after the Primary Care Trusts (PCT) announced that nine hospitals, 500 jobs, 240 beds and an ambulance station face the axe. Already campaigns plan demonstrations in the Forest of Dean and Stroud and public-sector union UNISON is organising a protest in Cheltenham.
Chris Moore
Health bosses hope to rush through these cuts to meet government deadlines for balancing the books, trying to claw back a £45 million deficit. Our NHS is now being ravaged by business minded bureaucrats. It was Forest of Dean miners who paid for Dilke Hospital in 1925 and Stroud residents who originally helped fund the maternity hospital. We're now going to fight for our services.
In Stroud hundreds packed into a meeting to fight the cuts. Local residents and health workers vented their anger, but hypocritically local Labour and Tory politicians joined us. They blamed local mismanagement rather than Labour's policy of bringing business interests and privatisation into the NHS or the Tories' dismal record in starting the dismantling of our health service.
In 2002 Labour reintroduced an 'internal market' (a Tory policy) into the NHS. Health Secretary Patricia Hewitt talked of "money following the patient' adding 'if services aren't attracting patients because they're not good enough, they may have to close."
Small community hospitals will always struggle to be as profitable as larger hospitals so it's no surprise they're under threat. Yet Stroud Maternity is the third largest birth centre in Britain and has offered a vital maternity-run service for over 50 years. I was born there and my 7 month-old baby girl had marvellous ante- and post-natal care there.
Blair and Hewitt talk of increasing one-to-one maternity care and giving more choice for expectant families. Stroud's 'choice' is a 15-mile journey to a unit in Gloucester that closed 17 times last year because of lack of staff.
Gloucestershire Socialist Party has been out campaigning for months, explaining why we face the cuts and trying to build and link the various campaigns. We don't want to save one hospital at the expense of others being axed.
We're also pressurising Unison to play a leading role. Stroud maternity staff already say they want industrial action considered to safeguard our lives and services.
---
We say:
Link up the campaigns locally and nationally to defend all our services.
End privatisation and the 'internal market.'
Bring all health care into one nationally planned, properly financed and publicly owned service free at the point of use.
Donate to the Socialist Party
Finance appeal
The coronavirus crisis has laid bare the class character of society in numerous ways. It is making clear to many that it is the working class that keeps society running, not the CEOs of major corporations.
The results of austerity have been graphically demonstrated as public services strain to cope with the crisis.
The Socialist Party's material is more vital than ever, so we can continue to report from workers who are fighting for better health and safety measures, against layoffs, for adequate staffing levels, etc.
We must be ready for the stormy events ahead and the need to arm workers' movements with a socialist programme - one which puts the health and needs of humanity before the profits of a few.
Inevitably, during the crisis we have not been able to sell the Socialist and raise funds in the ways we normally would.
We therefore urgently appeal to all our viewers to donate to our Fighting Fund.
---
In The Socialist 1 June 2006:
---
Socialist Party NHS campaign

'Stop the NHS cuts, end low pay'

"We're seeing the Americanisation of the NHS"
---
Environment: Nuclear power

Blair goes nuclear
---
Socialist Party campaigns

Can the Tories win the next election?

A strategy to take on New Labour
---
International socialist news and analysis

Iraq - lame duck leaders have no solution

Brazil: Hundreds killed by brutal military police

Massaker
---
Socialist Party Marxist analysis

'Correction' or crash?

Crisis in the Scottish Socialist Party
---
Socialist Party workplace news

PCS conference: The record of a campaigning union

Drivers strike over tax bills

Tesco goes west - with non-union job ads
---
Home | The Socialist 1 June 2006 | Join the Socialist Party
---