Link to this page: https://www.socialistparty.org.uk/issue/443/5252
From The Socialist newspaper, 8 June 2006
Don't let the NHS bleed to death
Organise for national action now!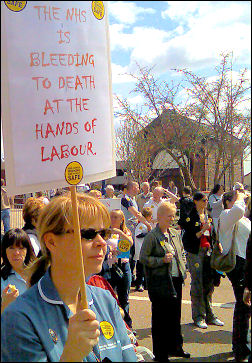 "The NHS is bleeding to death..." - placard on Stoke NHS demo
"WHY HASN'T the UNISON union called a national demonstration yet? Labour's privatisation war on the NHS is like death by a thousand cuts. The NHS is bleeding to death".
This was the response of Claire, a nurse at the University Hospital of North Staffordshire (UHNS) - it echoes the mood of many health workers.
Andy Bentley, Stoke
NHS staff at the UHNS are being bullied by management. Staff who leave are not being replaced which is placing a massive strain on health workers.
The government's all-out assault on the NHS becomes clearer by the day. This week it was revealed that Primary Care Trusts (PCT) in North Staffs are being forced to send day operation patients 30 miles to a private centre in Burton for treatment instead of to the UHNS.
This will cost the NHS 11% more per patient than being treated at the UHNS. The £1.5 million lost to the UHNS could fund 50 jobs and run two wards for a year and if the PCTs don't send any patients to Burton they will still have to pay the £1.5 million to this private hospital run by London-based Nations Healthcare!
UNISON members at their Health Conference in April voted unanimously for a day of action on a weekday with national demonstrations and support for branches organising strike action on that day.
NHS workers, patients and the community of North Staffs have waited long enough for UNISON to name the date for a national demonstration.
The North Staffs NHS SOS Campaign group, supported by the Royal College of Nursing and UNISON locally, have already organised a marvellous march of 5,000 NHS workers in Stoke in April. Now we are building for a regional march and rally in Birmingham on Saturday 15 July.
NHS workers from all over the West Midlands and beyond will make this a massive demonstration of anger at what is taking place in our health service. We must use it to demand that UNISON's leadership should do what their members want them to do - organise action to defend the NHS before it's too late.
---
>
West Midlands march to defend the NHS
Saturday 15 July.
Assemble 11am at City Hospital, Dudley Road, Birmingham.
March to rally in Centenary Square at 1pm.
Why not click here to join the Socialist Party, or click here to donate to the Socialist Party.
---
In The Socialist 8 June 2006:

Don't let the NHS bleed to death

Save our NHS!

Pregnancy discrimination: Bosses show their dirty tricks

Iraq: Bush and Blair's deadly legacy

A 'trigger-happy' police raid?

Festival of football, carnival of cash

Education after New Labour's Education Bill

2,000 sign up to Campaign for New Workers' Party

1926 General Strike book launch

Preparing for Europride

Lecturers dispute

Socialist Party members make an impact at Wales TUC

Delegates debate DWP strikes

Unity needed to fight exploitation

Right wing fail to stop Berlin WASG

Chile: Youth take to the streets demanding action
---
Home | The Socialist 8 June 2006 | Join the Socialist Party
---