Link to this page: https://www.socialistparty.org.uk/issue/445/5285
From The Socialist newspaper, 22 June 2006
Forest Gate raid
Community protests at trigger-happy policing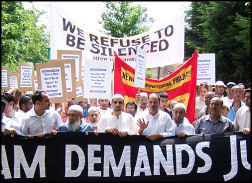 TWO THOUSAND protesters marched through east London last Sunday to demand an apology from the Metropolitan police over the Forest Gate 'anti-terrorism' raid - in which Abdul Kahar was shot and arrested along with his brother, Abul Koyair.
Both men were released without charge after a week in police custody. Media reports claim that the police informer who triggered the raid had 'learning difficulties'.
Abul Koyair thanked the demonstrators for their support and stressed that he and his brother didn't want "this to happen to other people in this community, Muslim or non-Muslim". He was joined on the demo by Alex Pereira, the cousin of Brazilian migrant worker Jean Charles de Menezes, gunned down by police in an anti-terrorist operation last year. Met chief Sir Ian Blair is facing calls to resign over his handling of the Menezes shooting.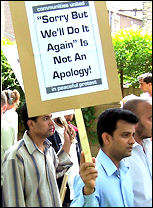 Prime Minister Tony Blair had angered the local community when he said he backed the police raid "101%", and that he fully supported Ian Blair. East Ham Labour MP Stephen Timms was roundly booed at Sunday's rally when he tried to distance the government from the Forest Gate raid.
But according to press reports, the raid was OK'd by the Cabinet Office. Moreover, many people consider that they face a trigger-happy police force, acting with impunity under the government's anti-terrorist laws.
And in a crassly insensitive manner it was announced the day before Sunday's demo that Assistant Police Commissioner, Andy Hayman, was made a CBE in the Honours list. Hayman is responsible for anti-terrorism investigations which includes the Menezes shooting and the Forest Gate raid..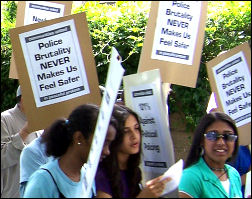 Socialist Party members leafleted for a forthcoming public meeting to discuss the police raid, terrorism, and the issue of Iraq. Many protesters signed a Socialist Party petition calling for a public inquiry, involving community and workers' representatives, into the anti-terrorist laws and policing.
Why not click here to join the Socialist Party, or click here to donate to the Socialist Party.
---
In The Socialist 22 June 2006:
---
Socialist Party NHS campaign

NHS cuts... closures... privatisation... We're fighting back!

Fight the cuts in community services
---
Socialist Party youth and students

Fight Low Pay

Socialist Students receive standing ovation
---
Socialist Party feature

US 'empire' in crisis
---
Socialist Party campaigns

Community protests at trigger-happy policing

Arise...Sir tax-avoider!

Labour defeated over schools and pool...

Battle of the Thatcherites!

Football: A high price for the beautiful game
---
Socialist Party review

1926 General Strike: workers taste power

Secuestro Express
---
Socialist Party LGBT

Putting the politics into Pride
---
International socialist news and analysis

Socialists oppose the war in Sri Lanka

Soweto uprising 1976: The powder keg ignites
---
Socialist Party workplace news

Brown attacks public sector workers

Anger at inept handling of pensions dispute
---
Home | The Socialist 22 June 2006 | Join the Socialist Party
---