Link to this page: https://www.socialistparty.org.uk/issue/446/5310
From The Socialist newspaper, 29 June 2006
Hands off civil servants' pension rights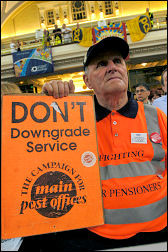 HEADLINES SUCH as "No. 10 orders shock U-turn on pensions," (Sunday Times, 25 June) infuriated trade unionists in the civil service.
They were based on a 'leaked' memo from the Cabinet Office to John Prescott. This suggests that the government was considering reneging on assurances that protected existing pensions entitlements for current civil servants and forcing workers to make far bigger contributions.
An activist in the largest civil service union, PCS, told the socialist: "If there's any hint that the government intends to renege on its current set of promises, there will be a massive backlash from union members. Civil service workers are spitting blood. They thought we were safe after last year's settlement.
"PCS's national executive will hopefully be considering the new scheme proposals at its July meeting. That meeting should be able to consider the full range of proposals and then what recommendations it will be making to members for action.
"Members are waiting anxiously. PCS members' vote for action on pensions was bigger than that on jobs. Industrial action could be back on the agenda for civil service workers."
Donate to the Socialist Party
Coronavirus crisis - Finance appeal
The coronavirus crisis has laid bare the class character of society in numerous ways. It is making clear to many that it is the working class that keeps society running, not the CEOs of major corporations.
The results of austerity have been graphically demonstrated as public services strain to cope with the crisis.
The government has now ripped up its 'austerity' mantra and turned to policies that not long ago were denounced as socialist. But after the corona crisis, it will try to make the working class pay for it, by trying to claw back what has been given.
The Socialist Party's material is more vital than ever, so we can continue to report from workers who are fighting for better health and safety measures, against layoffs, for adequate staffing levels, etc.
Our 'fighting coronavirus workers' charter', outlines a programme to combat the virus and protect workers' living conditions.
When the health crisis subsides, we must be ready for the stormy events ahead and the need to arm workers' movements with a socialist programme - one which puts the health and needs of humanity before the profits of a few.
Inevitably, during the crisis we have not been able to sell the Socialist and raise funds in the ways we normally would.
We therefore urgently appeal to all our viewers to donate to our special coronavirus appeal.
---
In The Socialist 29 June 2006:
---
Socialist Party NHS campaign

NHS SOS

Manchester marches to defend the NHS

Save our baby unit!

Take over the drugs giants

What the Socialist Party says:
---
Socialist Party youth and students

Young people - fight for your rights!
---
Socialist Party feature

SWP / Respect conference: Flawed perspectives
---
International socialist news and analysis

Greek students' protests ignite solidarity action

New regime in Somalia a setback for US imperialism
---
Socialist Party campaigns

G8 leaders fail to make poverty history

Police and fascists attack Moscow Pride

Fight back against homophobic bullying
---
Socialist Party workplace news and analysis

Hands off civil servants' pension rights

Support striking Asda workers

Anger at leadership's tactics

Not just: " Lie back and Think of England"

General Motors meets workers' resistance
---
Home | The Socialist 29 June 2006 | Join the Socialist Party
---