Link to this page: https://www.socialistparty.org.uk/issue/446/5313
From The Socialist newspaper, 29 June 2006
Fighting job losses:
Not just: " Lie back and Think of England"
IN APRIL, Peugeot announced the closure of its Ryton plant in Coventry with the direct loss of 2,300 jobs, which also threatens another 6,000 jobs in the West Midlands car industry. Unfortunately, the workers narrowly voted against taking strike action.
Alistair Tice
In a recent Guardian article entitled "Jobs we cannot afford to lose", the leaders of the two main unions in the car industry, Tony Woodley of the transport workers' union TGWU and Derek Simpson of the engineering union Amicus, called for British consumers to boycott Peugeot cars.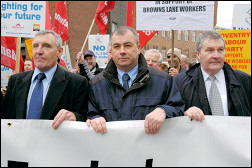 At the recent Amicus conference, Derek Simpson (on the right in the picture left) launched the boycott as a major union campaign. Taking advantage of World Cup fever, he said that the unions were appealing to British consumers to: "Think of England".
He explained that Ryton was a profitable plant but Peugeot wanted to make even more profits by transferring production to a factory in Slovakia where wage costs are a quarter of those in Coventry.
He said that Peugeot could do this because, as the General Motors Europe boss had said recently when closing a shift down at its Ellesmere Port Vauxhall plant, its easier for companies to sack British workers due to our 'flexible' labour market.
Boycott
Derek Simpson said that the unions had to keep pressing the Labour government to change these laws but in the meantime he urged consumers, especially trade union members, to boycott Peugeot. He said if they won't build cars here they shouldn't be able to sell them.
He claimed that if Peugeot lost just 4% of its UK market sales, it would wipe out the economic gains of transferring production to Slovakia.
Whilst superficially the boycott campaign seems attractive, it is born out of defeatism and contains the dangerous seed of nationalism.
In relation to Ryton, Derek Simpson asked: "Do we walk out on strike? What's the point?" A leadership attitude that must have contributed to the vote there against industrial action.
Furthermore he said: "Even a mighty union like Amicus is almost impotent when faced with a multinational like General Motors."
Hardly a very awkward statement from a member of the awkward squad of trade union leaders! In fact it smacks more of the 'new realism' of the right-wing union leaders that Woodley and Simpson were elected to replace.
The danger of such a boycott policy, however unconsciously, was reflected in the comment of one delegate supporting it who said: "The only good thing to come out of France is my Citroen"!
Ironically Citroen is now Peugeot's sister company, which is also to be boycotted! And what about Vauxhall? Amicus has a fleet of Vectra cars, yet Vauxhall recently cut a whole shift on Merseyside and may still move to close the entire plant.
Derek Simpson said in that case the union would cancel its contract. But every multinational in the over-capacity car industry is closing plants, sacking workers and transferring production in a 'race to the bottom'.
In any case, there is no mass-producer British car manufacturer left for people to "Buy British" or "Think of England".
The other policy that Derek Simpson was strongly promoting was the proposed merger of Amicus with the TGWU and GMB to form a 'Super Union'.
This, he said, would give the new union more influence with the Labour government, make it listen and deliver policies like the Trade Union Freedom Bill.
But to his own question of "How can we turn Labour round?" he had no answers beyond increasing Amicus members' activity in the Labour Party.
But the hopelessness of achieving that was demonstrated the very next dinner-time when only six delegates (out of over 1,000) attended a meeting with the joint chairs of Amicus-sponsored Labour MPs!
"One world, one union"
Derek Simpson also argued that a merged union was needed to fight the multinationals. In fact he said that even one union in the UK would not be enough. International trade union unity, co-operation and mergers were needed.
This is encapsulated in the Amicus slogan of: "One World, One Union".
But this approach is at odds with the "Think of England" campaign with all its dangers of nationalism which could cut across international trade union solidarity.
Whilst socialists, in principle, support trade union mergers, what is most needed is a fighting union strategy that can mobilise workers in Britain and internationally to save jobs.
Central to this has to be strike action by the threatened workers. This hits the bosses in their pockets, especially at a profitable plant like Ryton.
And it shows that the trade unions are serious about leading a fight that can galvanise the support of the wider community and of other unions in Britain and abroad.
But its true that where the bosses intend to actually close a plant, as at Ryton, strike action on its own might not be enough. Socialists would argue the need for workers to occupy the factory to prevent the dismantling and transfer of production machinery.
Such bold action could make the occupied factory the focus of a much wider community resistance, which could be organised through support groups, demonstrations and blockades.
Then the trade unions could confidently approach other workers, such as dockers and transporter drivers (members of the TGWU), not to handle or move Peugeot cars, in solidarity with the strike and occupation.
This of course would be secondary industrial action, illegal under the anti-trade union laws. These laws could be broken through such mass action concretely arising out of the fight to save jobs.
Legal or government threats against the unions would have to be met with appeals for broader trade union support up to the call for a one-day general strike.
At the same time, an appeal could be made to French workers and Peugeot workers in other countries to take solidarity action - initially not doing any transferred work and then building for a Peugeot-wide one-day strike across Europe.
In this context, trade unions might consider calling for a boycott of Peugeot cars as an auxiliary to the campaign of industrial action, not a substitute.
And certainly not under the dubious slogan of "Think of England" but as part of an international labour movement campaign based on working-class struggle and solidarity.
The campaign would be fighting to save all the jobs by keeping the plant open, something that could be achieved by such a militant campaign. This could either force Peugeot to reverse its decision or force the government to step in.
But to guarantee these jobs and others in the long run the nationalisation of not just Peugeot but the entire car industry would be required.
And for that to happen we need a new mass workers' party committed to and campaigning for public ownership and a democratic plan of production.
Why not click here to join the Socialist Party, or click here to donate to the Socialist Party.
---
In The Socialist 29 June 2006:
---
Socialist Party NHS campaign

NHS SOS

Manchester marches to defend the NHS

Save our baby unit!

Take over the drugs giants

What the Socialist Party says:
---
Socialist Party youth and students

Young people - fight for your rights!
---
Socialist Party feature

SWP / Respect conference: Flawed perspectives
---
International socialist news and analysis

Greek students' protests ignite solidarity action

New regime in Somalia a setback for US imperialism
---
Socialist Party campaigns

G8 leaders fail to make poverty history

Police and fascists attack Moscow Pride

Fight back against homophobic bullying
---
Socialist Party workplace news and analysis

Hands off civil servants' pension rights

Support striking Asda workers

Anger at leadership's tactics

Not just: " Lie back and Think of England"

General Motors meets workers' resistance
---
Home | The Socialist 29 June 2006 | Join the Socialist Party
---