Link to this page: https://www.socialistparty.org.uk/issue/447/5326
From The Socialist newspaper, 6 July 2006
Come to Summer Camp!
Friday 25 August to Monday 28 August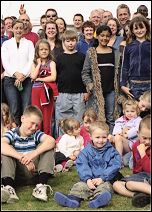 NOW'S THE time to book up for Summer Camp. For three days at the end of August, you can relax in pleasant surroundings in the Essex countryside. You can participate in a wide range of political discussions - organised for every morning and evening. And there's plenty of time free to try out new sports and activities - like canoeing, mountain biking and climbing. Instructors supervise all activities, so beginners of any age can participate.
There is entertainment in the evenings - the famous quiz, with a special one for children - and campers with musical talent can show it off round the campfire.
The political discussions will cover issues like: US 'superpower' - is the Empire in crisis?, the launch of the new Socialist Party pamphlet Muslims Under Siege, How a new workers' party can be built, Women's' rights and the 'raunch culture', a rally on the 70th anniversary of the Spanish Revolution, Marxism and science and much more.
There will be sessions organised by and for younger people and people new to the Socialist Party.
International Socialist Resistance members and supporters can participate in political art and drama activities as well as question and answer sessions and "how-to" workshops.
There's a creche for younger children throughout all the political discussions and there will be plenty of opportunity to play cricket, football, rounders and any other sports and games you're keen on.
What an end to the summer - meet fellow socialists from all over the country. Have some good political discussions, some fun and of course some sun.
Book your place now. Send a £5 deposit per person to: Socialist Summer Camp, PO Box 24697, London E11 1YD. Telephone 020 8988 8762
The camp takes place from Friday 25 August to Monday 28 August at a campsite near Chelmsford. The site has good facilities, including for wheelchair users. The camp costs £35 for adults and £12 for children, £90 for families. Day tickets cost £10.
Tents and mattresses can be hired. Evening meals are available at a reasonable cost and there will be a burger bar.
Why not click here to join the Socialist Party, or click here to donate to the Socialist Party.
---
In The Socialist 6 July 2006:
---
Socialist Party NHS campaign

NHS: Not for sale!

Fighting back against cuts and closures

Stop NHS Logistics sell-off

The NHS: What the Socialist Party says
---
Campaign for a New Workers Party

Public services not private profit

Build the Campaign for a New Workers' Party
---
Socialist Party youth and students

Young people need a living wage!
---
Socialist Party campaigns

How the rich became super-rich

Blairites trounced in Labour heartlands

Come to Summer Camp!
---
International socialist news and analysis

Israeli troops inflict 'collective punishment' on Palestinians

In Brief

'War on terror' undermining our democratic rights

Chile: Who killed Victor Jara?
---
Socialist Party review

The Wind that Shakes the Barley

The Irish Civil War 1922-1923
---
Socialist Party workplace news

Royal Mail - turn anger into action

Bus campaign prepares support for striking drivers
---
Home | The Socialist 6 July 2006 | Join the Socialist Party
---