Link to this page: https://www.socialistparty.org.uk/issue/448/5335
From The Socialist newspaper, 13 July 2006
NHS: Uniting to fight the cuts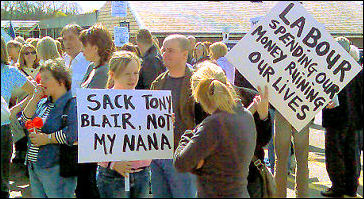 Demonstration in Stoke against NHS cuts earlier this year
NHS WORKERS, patients and members of the public will march in Birmingham on Saturday 15 July. They will come from all over the Midlands and beyond.
Andy Bentley, secretary North Staffs NHS SOS Campaign
The University Hospital of North Staffordshire is set to lose 1,200 NHS jobs and 160 beds. Thousands more have been announced across the Midlands including 820 at Sandwell and West Birmingham NHS trust. The savage cuts are being repeated nationwide. Unless we fight back, our health service will be decimated.
New Labour's big business friends are circling like vultures at the prospect of the rich pickings to be had through privatisation.
Even before all these attacks NHS staff are working flat out just to keep pace with their workload. Staff leaving are not being replaced, patients still lie on trolleys for hours, wait years for treatment and in some cases are being refused care.
A final year nurse at Birmingham's Queen Elizabeth hospital looked on the Web for local job vacancies when she finished her training and the nearest she could find was in Maidstone in Kent! Hospital bosses have been telling training nurses that they can get a job in Australia after they qualify.
This demonstration will be a major step forward in bringing together the many campaigns springing up across the region to defend our National Health Service. But why is it that the North Staffs NHS SOS Campaign is coordinating this demonstration? That's simple - because the big NHS trade unions are not!
UNISON, RCN and other unions have given support locally to many individual campaigns to defend jobs and closures. But why have these unions not called a national demonstration?
There is massive opposition to what Blair and his so-called Labour government are doing to the NHS. If all these cuts go through then the hands of the leaders of all the main health service unions will be stained with the blood of the NHS. They will never be forgiven by millions of people in Britain.
Why are they not balloting for strike action (making sure emergency cover is provided)? One day strike action or even the threat of it could force the government to back down, save thousands of jobs and beds, and in the long term protect the lives of many more patients.
And why are UNISON and other health service unions handing over millions of pounds of their members' money to New Labour? It's like paying someone to knock your house down!
NHS workers and others get ripped off in hundreds of ways already. We don't want to hand over more of our hard-earned cash so that Blair and his big business friends can get even richer. Far better to support those that are actually fighting to defend our NHS!
No to NHS job losses, cuts and closures.
No to NHS privatisation and 'the market'.
Rebuild the NHS as a publicly funded service free at the point of use, and with immediate cash to end the crisis of under-funding.

Unite the many campaigns already in existence to defend the NHS.

The unions should name the day for a national weekday demonstration and industrial action against the attacks on NHS jobs and services.
Prepare for a one-day strike of NHS workers, with NHS staff deciding levels of emergency cover
The health unions should stop giving money to New Labour, whose pro-market policies are destroying the NHS. Build the Campaign for a New Workers' Party.
---
West Midlands march to defend the NHS
Saturday 15 July
Assemble 11am at City Hospital, Dudley Road, Birmingham.
March to rally in Centenary Square at 1pm.
Donate to the Socialist Party
Finance appeal
The coronavirus crisis has laid bare the class character of society in numerous ways. It is making clear to many that it is the working class that keeps society running, not the CEOs of major corporations.
The results of austerity have been graphically demonstrated as public services strain to cope with the crisis.
The government has now ripped up its 'austerity' mantra and turned to policies that not long ago were denounced as socialist. But after the corona crisis, it will try to make the working class pay for it, by trying to claw back what has been given.
The Socialist Party's material is more vital than ever, so we can continue to report from workers who are fighting for better health and safety measures, against layoffs, for adequate staffing levels, etc.
When the health crisis subsides, we must be ready for the stormy events ahead and the need to arm workers' movements with a socialist programme - one which puts the health and needs of humanity before the profits of a few.
Inevitably, during the crisis we have not been able to sell the Socialist and raise funds in the ways we normally would.
We therefore urgently appeal to all our viewers to donate to our Fighting Fund.
---
In The Socialist 13 July 2006:
---
Socialist Party NHS campaign

NHS: Uniting to fight the cuts

Hewitt hides from health protesters

Save our hospital

TUC lobby
---
Youth and Education

Low Pay,No Way!

Parents win High Court victory
---
Socialist Party campaigns

Welfare Reform Bill scapegoats disabled people!

Fighting the far-right BNP

Wales launches Campaign for New Workers' Party
---
International socialist news and analysis

Israeli regime's air invasion of Lebanon threatens regional war

Another stolen presidency in Mexico?

Netherlands: Coalition government falls apart
---
Socialist Party workplace news and analysis

RMT conference: Striking back against privatisation

"Join the union to change the union"
---
Socialist Party feature

How the farmworkers got organised

National Blood Service: Fighting job cuts
---
Socialist Party review

'Storming heaven': Battle for Spain - The Spanish Civil War
---
Socialist Party National committee report

Build the Socialist Party
---
Home | The Socialist 13 July 2006 | Join the Socialist Party
---