Link to this page: https://www.socialistparty.org.uk/issue/448/5336
From The Socialist newspaper, 13 July 2006
Hewitt hides from health protesters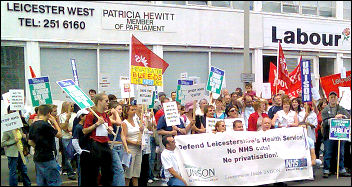 HEALTH SECRETARY Patricia Hewitt hid from protesting health workers and patients from her own area last Saturday, 8 July. 300 people took part in the march in Leicester in protest against health service cuts and privatisation.
Steve Score, Leicester Socialist Party
The march went to Hewitt's Leicester West constituency offices where a public surgery had been advertised. However, when we got there the doors were padlocked and no one was in!
At the rally at the end of the march, Leicester Trades Union Council secretary Paul Henderson said that Hewitt's office was sandwiched between a bankrupt stock warehouse and an engineering firm called "Premier Screw and Repetition Company": "Her ideas are certainly bankrupt, and her government is repeatedly screwing us!"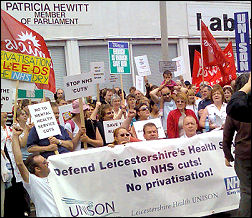 The demo, supported by Leicestershire Health UNISON, had been initiated at short notice by workers at one local mental health unit, the Rutland unit (under threat of closure), and another, Stewart House, (threatened with privatisation). These are just part of at least £62 million cuts being made in Leicestershire.
Speakers at the rally included Socialist Party members Josie Nicholls, branch secretary of Leicestershire county council UNISON and Jean Thorpe of UNISON NEC. Along with other speakers such as Tom Smith, steward at Stewart House, they raised the need for national action to defend the NHS, along with a national demonstration.
Jean pointed out that "the millions of pounds given to Labour could instead be used as a strike fund for national action of NHS workers!"
Donate to the Socialist Party
Finance appeal
The coronavirus crisis has laid bare the class character of society in numerous ways. It is making clear to many that it is the working class that keeps society running, not the CEOs of major corporations.
The results of austerity have been graphically demonstrated as public services strain to cope with the crisis.
The government has now ripped up its 'austerity' mantra and turned to policies that not long ago were denounced as socialist. But after the corona crisis, it will try to make the working class pay for it, by trying to claw back what has been given.
The Socialist Party's material is more vital than ever, so we can continue to report from workers who are fighting for better health and safety measures, against layoffs, for adequate staffing levels, etc.
When the health crisis subsides, we must be ready for the stormy events ahead and the need to arm workers' movements with a socialist programme - one which puts the health and needs of humanity before the profits of a few.
Inevitably, during the crisis we have not been able to sell the Socialist and raise funds in the ways we normally would.
We therefore urgently appeal to all our viewers to donate to our Fighting Fund.
---
In The Socialist 13 July 2006:
---
Socialist Party NHS campaign

NHS: Uniting to fight the cuts

Hewitt hides from health protesters

Save our hospital

TUC lobby
---
Youth and Education

Low Pay,No Way!

Parents win High Court victory
---
Socialist Party campaigns

Welfare Reform Bill scapegoats disabled people!

Fighting the far-right BNP

Wales launches Campaign for New Workers' Party
---
International socialist news and analysis

Israeli regime's air invasion of Lebanon threatens regional war

Another stolen presidency in Mexico?

Netherlands: Coalition government falls apart
---
Socialist Party workplace news and analysis

RMT conference: Striking back against privatisation

"Join the union to change the union"
---
Socialist Party feature

How the farmworkers got organised

National Blood Service: Fighting job cuts
---
Socialist Party review

'Storming heaven': Battle for Spain - The Spanish Civil War
---
Socialist Party National committee report

Build the Socialist Party
---
Home | The Socialist 13 July 2006 | Join the Socialist Party
---