Link to this page: https://www.socialistparty.org.uk/issue/448/5340
From The Socialist newspaper, 13 July 2006
Education
Merton academies
Parents win High Court victory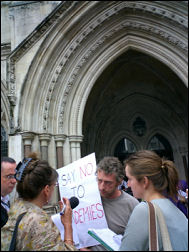 THE CAMPAIGN Against Academies in Merton (CAAM) has won an important first victory in the High Court in the first of three test cases over the government's divisive academy schools proposals.
Socialist Party member Rob MacDonald meets the press. Photo Paul Mattsson
Led by parent and Socialist Party member Rob MacDonald, CAAM were opposing Merton council's attempts to turn Tamworth Manor and Mitcham Vale schools into academies and won the right to a judicial review. The case was over whether the council and government had to have a funding agreement to set up academy schools when they have the consultation process.
The funding agreement isn't just about money. It is like a contract setting out all details of how the school will be run like admission, discipline, and provisions for special educational needs. At Tamworth Manor the controversial admission policy was put out well after the consultation process ended. The judge likened this to giving the sponsors a blank cheque.
Merton council's weak legal case basically blamed the government and launched a political attack on Rob MacDonald as a Socialist Party member and an 'ideologue'. And the fact that the local Socialist Party had a good website was mentioned as if that meant we weren't parents! These desperate red scare tactics were led by the ex-council leader and the local Labour MP.
Rob said that there are two ideologies here - one for privatisation and loss of democratic control and one for good quality, comprehensive education for all.
The court case has raised the whole question of democracy. An unelected minister Lord Adonis gives control of a school to an unelected Tory Lord Harris, chief executive of Carpetright.
This highly controversial decision is pushed through the council by cabinet rather than a full meeting. The School Organisation Committee doesn't vote unanimously to close the schools so a unelected adjudicator decides to do it. If all this doesn't work an unelected judge decides. That's capitalist democracy.
The full judicial review may be harder to win as the government are likely to join the battle. The courts are not the best area to fight these battles but any upset for the academy programme would be positive.
Rob has got some legal aid but the community also has to pay towards costs. So far the campaign has raised £4,000 mainly from trade unions and individuals.
Unfortunately this leaves the two Merton schools in limbo. Some parents are concerned and rightly just want some conclusion. Students and teachers will break up for the holidays not knowing the future. This is the council's fault - they tried to railroad plans through for September 2006, despite many warnings from the campaign.
This case might have implications for other areas and could galvanise the opposition.
If you'd like Rob or a speaker from the campaign to address your union or campaign group please contact us.
For up-to-date information or to use the message board go to www.campaignagainstacademiesinmerton.t83.net
---
>
No to two-tier education
ROB MACDONALD says: "All children should have quality comprehensive education delivered by their nearest school. If schools need more resources and help they should not have to be put out to private concerns to release public money. The introduction of independent schools is divisive. It will help create a two-tier education system.
"My son's school, Tamworth Manor, was not failing - it was showing great improvement. They're trying to pull the ground from underneath it through their eagerness to privatise our public services. It's not working in the health service, or the railways and it won't work in education."
Donate to the Socialist Party
Coronavirus crisis - Finance appeal
The coronavirus crisis has laid bare the class character of society in numerous ways. It is making clear to many that it is the working class that keeps society running, not the CEOs of major corporations.
The results of austerity have been graphically demonstrated as public services strain to cope with the crisis.
The government has now ripped up its 'austerity' mantra and turned to policies that not long ago were denounced as socialist. But after the corona crisis, it will try to make the working class pay for it, by trying to claw back what has been given.
The Socialist Party's material is more vital than ever, so we can continue to report from workers who are fighting for better health and safety measures, against layoffs, for adequate staffing levels, etc.
Our 'fighting coronavirus workers' charter', outlines a programme to combat the virus and protect workers' living conditions.
When the health crisis subsides, we must be ready for the stormy events ahead and the need to arm workers' movements with a socialist programme - one which puts the health and needs of humanity before the profits of a few.
Inevitably, during the crisis we have not been able to sell the Socialist and raise funds in the ways we normally would.
We therefore urgently appeal to all our viewers to donate to our special coronavirus appeal.
---
In The Socialist 13 July 2006:
---
Socialist Party NHS campaign

NHS: Uniting to fight the cuts

Hewitt hides from health protesters

Save our hospital

TUC lobby
---
Youth and Education

Low Pay,No Way!

Parents win High Court victory
---
Socialist Party campaigns

Welfare Reform Bill scapegoats disabled people!

Fighting the far-right BNP

Wales launches Campaign for New Workers' Party
---
International socialist news and analysis

Israeli regime's air invasion of Lebanon threatens regional war

Another stolen presidency in Mexico?

Netherlands: Coalition government falls apart
---
Socialist Party workplace news and analysis

RMT conference: Striking back against privatisation

"Join the union to change the union"
---
Socialist Party feature

How the farmworkers got organised

National Blood Service: Fighting job cuts
---
Socialist Party review

'Storming heaven': Battle for Spain - The Spanish Civil War
---
Socialist Party National committee report

Build the Socialist Party
---
Home | The Socialist 13 July 2006 | Join the Socialist Party
---