Link to this page: https://www.socialistparty.org.uk/issue/452/5409
From The Socialist newspaper, 24 August 2006
Protests in Nuneaton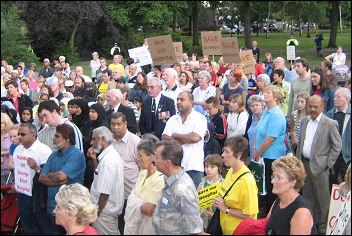 OVER 300 people demonstrated against proposed hospital cuts in Nuneaton on 17 August. The Acute Services Review wants to transfer some emergency care along with children's and maternity services from Nuneaton to the new PFI hospital in Coventry.
Lindsay Currie
Angry local residents are determined to fight these plans. They worry that in the long term all services will be transferred to Coventry to provide the financial resources for the over-budget PFI hospital.
Speakers at the rally included two Coventry Socialist Party councillors Dave Nellist and Rob Windsor as well as nurses and union representatives.
Further local action is planned. And health protests continue to spread with another set for nearby Hinckley, in Leicestershire, on 16 September.
Why not click here to join the Socialist Party, or click here to donate to the Socialist Party.
---
In The Socialist 24 August 2006:

Unite against war, terror and racism

Wars and terrorism
---
Socialist Party NHS campaign

"We won't be treated like dirt"

Strike ballot begins

PFI - Labour's binge profiteering

PFI scams exposed

Protests in Nuneaton

Ballots and lobbies in Pontefract

Sheffield - stop these attacks on children's health

Cuts and sell-offs in Birmingham

The NHS: What we say
---
Socialist Party youth and students

Tony Blair takes the biscuit...

Preparing for the new term

Lincoln launches anti-BNP campaign
---
Socialist Party campaigns

Liberal U-turn stops tenants' ballot victory

Cream for fat cats - debts for us!
---
Socialist Party workplace news

Visteon workers fight for their future

Prison officers vote to strike

Crown Post Offices

National trade union meeting
---
Home | The Socialist 24 August 2006 | Join the Socialist Party
---