Link to this page: https://www.socialistparty.org.uk/issue/452/5414
From The Socialist newspaper, 24 August 2006
Tony Blair takes the biscuit...
...so let's give him one at schools and colleges around the country!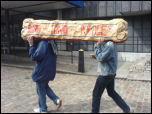 Many young people see Tony Blair as a poodle to the foreign policy of warmonger George Bush.
Matt Dobson
So last weekend 10 London ISR members turned up at Downing Street with a huge dog bone for Tony "the Poodle" Blair.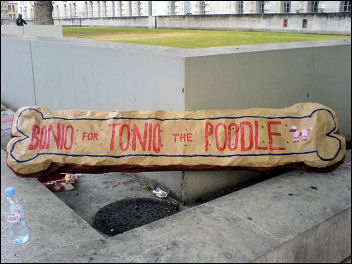 Blair may also be getting some dog biscuits through the mail this week as we handed out little packages with a Bonio for Tonio addressed to 10 Downing Street to all the people who are disgusted with his support for US imperialism, and its wars in Iraq and Afghanistan, and Israel's onslaught in Lebanon.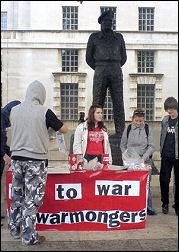 As well as generating a laugh with the stunt there was a lot of interest in our leaflets on the Middle East crisis and some young people stopped for long discussions about the situation there.
We then had a meeting in a café with young people who were interested in finding out more about ISR and the Socialist Party, discussing everything from socialist ideas to the environment and women's rights.
One person agreed to join ISR and the Socialist Party and is interested in setting up an ISR group in her college.
We found that this stunt was very useful in discussing with young people - other areas could consider using the Poodle Stunt for the new term.
Make your plans now for the first week of the new term. With the national anti-war demo on 23 September we will be going to the students in the sixth forms and further education colleges to build the anti-war movement.
We also need to meet and discuss the socialist alternative with all of those young people who are not only fed up with the warmongers but also with the system that creates war, poverty and exploitation.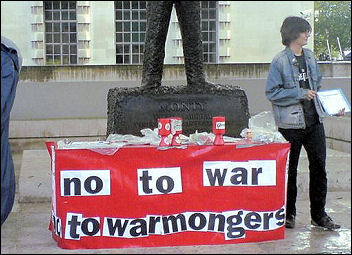 Why not click here to join the Socialist Party, or click here to donate to the Socialist Party.
---
In The Socialist 24 August 2006:

Unite against war, terror and racism

Wars and terrorism
---
Socialist Party NHS campaign

"We won't be treated like dirt"

Strike ballot begins

PFI - Labour's binge profiteering

PFI scams exposed

Protests in Nuneaton

Ballots and lobbies in Pontefract

Sheffield - stop these attacks on children's health

Cuts and sell-offs in Birmingham

The NHS: What we say
---
Socialist Party youth and students

Tony Blair takes the biscuit...

Preparing for the new term

Lincoln launches anti-BNP campaign
---
Socialist Party campaigns

Liberal U-turn stops tenants' ballot victory

Cream for fat cats - debts for us!
---
Socialist Party workplace news

Visteon workers fight for their future

Prison officers vote to strike

Crown Post Offices

National trade union meeting
---
Home | The Socialist 24 August 2006 | Join the Socialist Party
---