Link to this page: https://www.socialistparty.org.uk/issue/454/5448
From The Socialist newspaper, 14 September 2006
Ruth Kelly fails to answer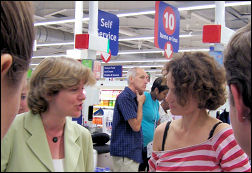 RUTH KELLY, the minister for communities, was in Leytonstone Tesco to launch her new initiative on women and work which, she claims, will make it easier for women to combine part-time work with childcare.
(Picture: Ruth Kelly, left, tries to answer Hannah Sell)
She did not expect to be questioned by local Socialist Party members.
Hannah Sell, Socialist Party deputy general secretary
We asked how the women working as cleaners at local Whipps Cross hospital, currently taking strike action over low pay, were meant to take up her proposal for flexible working, when they had to work 60 hours a week to make ends meet.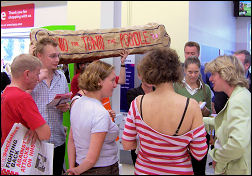 She could only reply that Labour was "doing its best to make things better" and had introduced the minimum wage.
When it was pointed out that the minimum wage is poverty pay and that workers, especially in London - the most expensive city in the world, could not live on it, she could only reply that it would be improved in the future.
She gave no reply when we pointed out it had been nine years already.
Nor did she respond to our question about how much she earned.
Finally, we asked if she really believed that the government's brutal foreign policy in Iraq, Afghanistan and now Lebanon was totally unrelated to the 7/7 bombings.
Unsurprisingly, she held firm to the government's line and argued that they were just caused by a "perverse ideology"!
Why not click here to join the Socialist Party, or click here to donate to the Socialist Party.
---
In The Socialist 14 September 2006:
---
Socialist Party NHS campaign

United action can win!

NHS Logistics workers vote to strike against privatisation

Our prescription - a socialist NHS!

Opposition forces Trusts to retreat

The Socialist Party says:
---
Socialist Party campaigns

No to war

When Bonio met Tonio

Ruth Kelly fails to answer

Time for a new workers' party

Globalisation - what it is and how to fight it!

Campaigning against the far-right BNP

Don't sign 'good behaviour' contracts
---
Socialist Party workplace news and analysis

Blair's last TUC conference - good riddance!

Public sector workers' anger gets a hearing

Build the campaign to save Burberry

Organising migrant workers

Agency workers vote 100% for union recognition
---
International socialist news and analysis

Calderon confirmed as president but opposition protests continue

Brutal attack by company thugs on CWI members in Almata
---
Home | The Socialist 14 September 2006 | Join the Socialist Party
---