Link to this page: https://www.socialistparty.org.uk/issue/456/5469
From The Socialist newspaper, 28 September 2006
Thousands say:
Blair out! New Labour out!
Build a new workers' party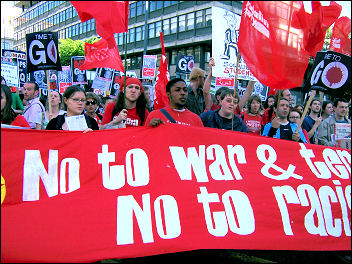 Part of the ISR contingent on the STWC march. Photos Hannah seaman
TENS OF thousands of people demonstrated outside the Labour Party conference in Manchester last Saturday to tell Blair that he, and his fellow warmongers, should go now!
Bob Severn
Almost three and a half years since US president George Bush, and his British poodle Blair, claimed victory in Iraq, the occupation, death and violence continues. The Muslim month of Ramadan started with over 35 people being killed by a car bomb attack in Sadr City, Baghdad. On the same day, nine severed heads were found in the city of Tikrit. The UN has reported that 7,600 civilians were killed in Iraq in July and August.
Blair has also backed the invasion of south Lebanon by the Israeli Defence Force and sent troops to Afghanistan. Following the death of 14 British servicemen in an aircraft crash, a leaked email from a paratroop major last week said that the air force's role in Afghanistan was "utterly, utterly useless". Another senior officer said that British casualties in Afghanistan were far higher than officially estimated.
But what alternative do we have to Blair? Gordon Brown, if he follows Blair as prime minister, has made it clear that he will continue to back up US imperialism to the hilt!
The 'New Labour project'
At the Labour Party conference Brown again made it clear that he would "continue the New Labour project" of pro-big business polices of cuts and privatisation.
As chancellor, Brown has lead the attacks on public services, including 10,000 job cuts in the Department for Work and Pensions, with 20,000 more to come. Not to forget Brown's full support for the privatisation, job cuts and closures in the NHS, as well as in universities and schools.
The only 'new' policy Brown has put forward at the conference is more devolution for local and regional government.
This is not much of a 'new' policy at all. In 2004, the North East referendum for a regional assembly returned a huge 'no' vote as people saw it as less democracy, more bureaucracy!
Workers, unemployed and young people need a party that fights for their interests - for good public services, decent pay, guaranteed pensions and against war and occupation. No wonder they will not join the Labour Party!
This is why the Socialist Party is helping to build the Campaign for a New Workers' Party, to represent the millions instead of the millionaires.
Contact the CNWP: email info@cnwp.org.uk or write to: CNWP, PO Box 858, London E11 1YG. www.cnwp.org.uk
Why not click here to join the Socialist Party, or click here to donate to the Socialist Party.
---
In The Socialist 28 September 2006:
---
Socialist Party NHS campaign

NHS SOS

On the march to save the NHS

Lewisham - Liberals save Labour's blushes on NHS

NHS Logistics: Workers strike against sell-off

300 rally to oppose privatisation - prepare for strike action
---
Socialist Party campaigns

Blair out! New Labour out!

Tommy Sheridan: Murdoch's new offensive

Manchester's hostile welcome to Blair

Blair's long goodbye

Socialist Students getting a fantastic response
---
International socialist news and analysis

Latin America in revolt

Fighting the neo-liberal offensive

Capitalism's ruthless struggle for oil and gas

Class unity is the only answer

Mass protests over 'lies speech'

Cuba - before and after the revolution
---
Home | The Socialist 28 September 2006 | Join the Socialist Party
---