Link to this page: https://www.socialistparty.org.uk/issue/456/5471
From The Socialist newspaper, 28 September 2006
Manchester's hostile welcome to Blair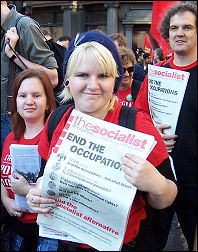 "GO BACK, focus on the public, the public's concerns and things that really worry people." That's what Tony Blair said on TV, the morning after 60,000 people marched through Manchester against the wars and NHS cuts that Blair has enthusiastically promoted.
Hugh Caffrey
Unfortunately for him, what really concerns and worries working-class and young people in Blair's Britain is that the poodle is still in Number 10! It's time to go!
Advertising boards around the city centre say "Manchester welcomes the New Labour conference". The welcoming chorus of 60,000 people chanting "Blair Out" outside the conference venue certainly let New Labour know what we think of them!
Health workers and anti-cuts campaigners on the demonstration are used to hearing that services are being cut and departments closed because there's no money. Yet the Home Office splashed out well over £4 million for "security", when not one single arrest was made on the demo.
No money for what working-class people need - but no limit to the bill for New Labour conference, or the wars in Iraq and Afghanistan, or the £76 billion on Trident's replacement.
Rumour has it that Labour's National Executive Committee may oppose privatisation. It's a sign of the times when even the poodle's fleas might dare to vote against him! But these muted squeaks of protest won't be enough to effectively oppose privatisation or wars, to fight New Labour or to end their rotten capitalist system.
Protests will continue throughout the week, on almost every issue facing young and working-class people today - at work, in the community, about public services, and so on. We're building and joining them. At the end of the week, Blair will leave town, possibly to appear on Songs of Praise.
Sooner or later he'll be forced out of 10 Downing Street, to be replaced by another loyal servant of the bosses. But his "legacy" of cuts, privatisation, factory closures and a widening wealth gap will continue to decimate working-class communities.
That's why throughout and after the conference protests, we'll keep campaigning for a new workers' party and fighting for a socialist world.
Watch a video diary of the ISR's intervention
Time to go - time for a real alternative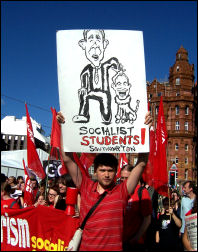 AS THE "Time to Go" demonstration in Manchester was finishing, we held a successful meeting for people interested in socialist ideas and the Socialist Party.
Photo Hannah Seaman
The meeting offered our views on what the alternatives to Blair, war and terror could be and how we could begin to build them. Our alternative is socialism and the building of both working-class organisations and the confidence to struggle towards that goal.
Sean Figg spoke on behalf of International Socialist Resistance (ISR) - the socialist youth group. He spoke of the situation facing young people in Britain today - low-paid, insecure jobs, costly education and the revulsion of young people at the Labour government's warmongering.
He talked of how young people were getting active in ISR campaigning against low pay and war and refusing to just accept the situation as they find it.
Speaking for the Socialist Party, deputy general-secretary Hannah Sell spoke of the need for an alternative.
Hannah said that all the political parties currently on offer pose no solution to working people. When it is "time to go," Blair will almost certainly be replaced by another pro-big business candidate probably Gordon Brown.
The continuing crises in the Middle East are all linked by the interests of US and British imperialism and the local elites coming before the interests of the masses in the region. The people need a system change and a class-based socialist alternative is vital to break the cycle of violence.
Hannah finished with an appeal. She said if people were serious about fighting against the capitalist system and building a lasting alternative then they should join us in the Socialist Party.
At the end of the meeting two people - at their first Socialist Party meeting - agreed to join.
Fighting for a New Workers' Party
THE SETTING couldn't have been better; it was the building where the TUC was founded in 1868, a far cry from the stage-managed sham of a Congress the week before last. We met in the week that the Labour Party was holding its first conference in Manchester since it met in 1917, the year of the Russian revolution.
Vicky Perrin

New Labour is the unrecognisable descendant of the Labour Party that first grew from the call for a voice for the working class in Britain. The day before, a demonstration of 60,000 had surrounded New Labour's conference calling for the troops to leave Iraq and for Blair to leave No. 10. People had taken to the streets to show what they think of the war-mongering privateers in power.
60 supporters of the Campaign for a New Workers Party (CNWP) met just as 20 resolutions on the question of leadership were ruled out by a party that long since turned its back on its history of democracy and struggle.
TONY MULHEARN from Liverpool, 'The City That Dared to Fight' in the 1980s, quoted Trotsky's point that once an organisation leaves the interests of those it was set up to represent far behind, it's time to abandon it and form another. Well, after nine years of cuts, privatisation and wars we can safely say he was right.
Blair has become a liability for a party that came to power on a record low turnout, whose programme of 'reform' in the NHS and education and butchering of the welfare state has shown only too clearly where its interests lie - and it's not with the working class.
BRIAN LOADER gave us a report from NHS Logistics which as he says has fallen foul of New Labour's policy of 'if it works, let's privatise it'. Workers at Logistics who carry out 112,000 deliveries per day of vital supplies to our hospitals are about to embark on their second day of strike action over the sell off to DHL (see page 11).
DR JACKIE GRUNSELL was elected in Huddersfield to Kirklees council on a Save Our NHS platform in May. She spoke of the campaign against the Trust's proposed transfer of services and closure of hospitals and described new Labour's selling off of the NHS as the "ultimate betrayal of the working class."
Her election proves that we can unite to fight back and defend our public services. Apathy at the ballot box she said, was only a reflection of people's disillusionment with the main parties and we should be mindful of the far right's ability to fill this vacuum where we don't offer an alternative.
GRAHAM BOWKER from the TGWU, then highlighted the effect of Thatcher's anti-trade union laws which New Labour are upholding. He reported on the electricians' dispute over blacklisting legislation which had so far had no press coverage.
DAVE NELLIST, Socialist Party Councillor in Coventry then said that unlike generations before us, we are not able to hope realistically that our children will enjoy better lives than ours. They are growing up in an 'unsafe world', he said, as a result of imperialism and climate change. Faced with 'spot the difference' between the three main parties and working for the 'National Minimal Wage' they desperately need an alternative.
The first steps towards this are being taken by the Campaign for a New Worker's Party as it makes an anti-war, anti-privatisation stand that none of the main parties are doing.
Why not click here to join the Socialist Party, or click here to donate to the Socialist Party.
---
In The Socialist 28 September 2006:
---
Socialist Party NHS campaign

NHS SOS

On the march to save the NHS

Lewisham - Liberals save Labour's blushes on NHS

NHS Logistics: Workers strike against sell-off

300 rally to oppose privatisation - prepare for strike action
---
Socialist Party campaigns

Blair out! New Labour out!

Tommy Sheridan: Murdoch's new offensive

Manchester's hostile welcome to Blair

Blair's long goodbye

Socialist Students getting a fantastic response
---
International socialist news and analysis

Latin America in revolt

Fighting the neo-liberal offensive

Capitalism's ruthless struggle for oil and gas

Class unity is the only answer

Mass protests over 'lies speech'

Cuba - before and after the revolution
---
Home | The Socialist 28 September 2006 | Join the Socialist Party
---