Link to this page: https://www.socialistparty.org.uk/issue/457/5485
From The Socialist newspaper, 5 October 2006
Stroud:
"Our campaign saved our maternity hospital"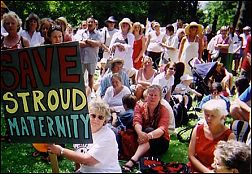 "IF WE hadn't fought it, it would have gone through", MANDY ROBOTHAM, local midwife and head of the Stroud Maternity Matters campaign, told the socialist. "They intended to close the maternity hospital, but we and the public forced them to change their minds."
Chris Moore
The campaign forced Gloucestershire's Primary Care Trusts (PCTs) to reverse their proposal to close Stroud's 53-year-old maternity hospital. Their hard work mobilised mass support against the cuts: 4,000 people marched through Stroud; a train took 600 NHS campaigners to lobby parliament; local lobbies, petitions and social events put pressure on the PCT business managers.
Mandy explained: "We got organised quickly with a clear plan which we kept reviewing and we kept fighting. Each (PCT) board member had a (campaign) 'marker', whose job it was to get to him or her. We also engaged the media locally and nationally through phone calls and emails."
The pressure paid dividends. Both cuts and campaign were rarely out of the local press, and Stroud Maternity hospital featured in the national press. Mandy feels the campaign had a national impact on the debate about midwife-led units. "If this trust concedes that it can't close a successful midwife-led unit because it goes against government policy, that sets a precedent for other threatened units."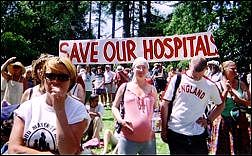 At present 15-20 units, about a third nationally, could face closure. "We offer low risk, home-like setting with good postnatal care. But NHS financiers see us as a luxury service and a soft target.
We know we're a necessity that costs the NHS less in the future. The NHS was designed to be about quality care but now it appears to be about breaking even or making a profit."
Mandy says: "We've had a success but we have to be vigilant to protect what we've won." This comes from hard experience, Mandy was involved in the first campaign to save the baby unit in 1998.
A few months ago, Gloucestershire PCTs announced £40 million of NHS cuts. Campaigns like Stroud's stopped some of these, but they still propose £24 million cuts.
Huge rallies forced a re-think but Dilke hospital in the Forest of Dean is still dependent on a business plan by local business people, politicians, health campaigners and professionals being accepted. This would be a type of 'Social Enterprise,' but it could mean the hospital coming out of the NHS and being run as a 'non-profit' business. It would make it a prime target for takeover by a private company.
Labour wants to further open up the NHS to business competition. The recent cuts were announced when PCTs were told to balance their budgets to prepare for a change in their role. They will no longer directly provide services but will tender out contracts. Press adverts indicated that up to 80% of contracts would go to the private sector.
Why not click here to join the Socialist Party, or click here to donate to the Socialist Party.
---
In The Socialist 5 October 2006:
---
Socialist Party NHS campaign

Our NHS not for sale!

Marching to stop cuts and sell-offs

Action is the only answer to NHS cuts

Fighting the privateers

Health workers told - no money for study

"Our campaign saved our maternity hospital"

Socialist Party fights for:
---
Socialist Students

Fight for a socialist alternative to Blair's Britain

Students seek out socialist ideas

Age discrimination and the minimum wage
---
Socialist Party campaigns

Blair more hated than Thatcher

Come to Socialism 2006!

Bush's 'war on terror' fuels terrorism!

MoD hypocrisy on Taliban

BIG OIL

Joe Higgins' speech "tore Taoiseach [PM] apart"

Tommy Sheridan - Murdoch's new offensive

Hamas clashes with striking workers
---
Home | The Socialist 5 October 2006 | Join the Socialist Party
---