Link to this page: https://www.socialistparty.org.uk/issue/329/5569
From The Socialist newspaper, 10 January 2004
Join The Fight Against Fees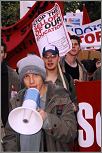 THE NEW Labour government is about to publish its Bill on top-up tuition fees. The Bill was delayed because over 150 Labour MPs signed a motion in opposition.
They've come under pressure from the millions of people who don't want a higher education system where the rich, who can pay, get the best education while poorer students, faced with thousands of pounds worth of debts, are put off from going to university or forced onto cheap courses that they don't really want.
There is widespread anger at the hypocrisy of New Labour MPs, most of whom benefited from a free education, who are now pulling the ladder up and denying working-class students a decent future.
Desperate
As well as sunning himself in Egypt, Tony Blair has spent the past few weeks desperately trying to come up with a deal that will buy off rebel Labour MPs.
There is talk of a complicated 'package' that will give poorer students financial help of up to £3,000 a year.
But even if this materialises, it will still mean students leaving university with massive debts. The average cost of essentials such as food and accommodation outside London is around £7,000 a year!
And it will still mean the introduction of the 'market' into higher education. At some stage the £3,000 cap on tuition fees will be lifted and students could face fees in the future of £5,000, £10,000 or even £15,000 a year.
Elite
That's what the elite universities and big business want to see and these are the people that Blair and New Labour represent.
While some Labour MPs will wobble, it's not guaranteed that Blair will win the vote on top-up fees in Parliament (expected at the end of the month).
Socialist Students and the Socialist Party will be keeping up the pressure through lobbies of MPs, protests and demonstrations. We urge everyone to join our campaign against tuition fees and for a free education.
But top-up fees are just one more example of how New Labour is tied to big business and the profit system. Education, health, transport -the market is permeating all of our public services and it's working people who pay the price.
That's why in 2004 we will be redoubling our efforts to build a socialist alternative to New Labour and the capitalist system which they defend.
No to top-up fees and no to a graduation tax

Scrap all tuition fees

A living grant for all students
Why not click here to join the Socialist Party, or click here to donate to the Socialist Party.
---
In The Socialist 10 January 2004:

Join The Fight Against Fees

Socialist Party Wins Vote Opposing Fees on Coventry City Council

Young Workers Need A Liveable Minimum Wage!

Karl Debbaut - join the lobby
---
Socialist Party feature

Give Us Back Our Railways

Foreign Aid: Poorest Pay, Privatisers Gain

The cost of a child's life
---
Socialist Party Marxist analysis

2004 - A New Year Of Political Struggle
---
Socialist Party workplace news

Vote 'Yes' For Strike Action

Parmalat Workers Shafted By Capitalist Greed

Labour Council Attacks Trade Union Rights

Report Reveals Plans For Teaching On The Cheap
---
Home | The Socialist 10 January 2004 | Join the Socialist Party
---