Link to this page: https://www.socialistparty.org.uk/issue/367/6019
From The Socialist newspaper, 23 October 2004
Blair lies, thousands die
Stop The Warmongers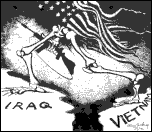 "THIS IS a political game to help George Bush win the election - and it stinks". That was how the father of one soldier killed in Iraq reacted to reports that 650 British troops could be moved from the south of Iraq to more dangerous 'hotspots' around Baghdad.
Rose Gentle from Scotland and Reggie Keys from North Wales spoke movingly at the anti-war demo last Sunday about the death of their sons. They blamed Tony Blair and branded him a war criminal.
Now many more sons face death in what defence secretary Geoff Hoon cynically called their "duty" to warmonger Bush and US imperialism.
Over 1,000 occupying troops have so far been killed in the war and occupation of Iraq - 90% of those from the US. Bush wants British soldiers to 'share more of the load' - die so that he can be re-elected.
The relentless violence is causing unrest among US forces. 17 reservists in one US unit refused to operate a fuel convoy which they called a "suicide mission".
Bush and Blair are being sucked ever deeper into the bloody vortex of Iraqi occupation, with Iraqi civilians and occupying troops paying with their lives.
The US are preparing a brutal ground offensive against Fallujah and other cities controlled by the Iraqi resistance. They want to 'pacify' these areas before holding elections in January next year. The last attempt at 'pacifying' Fallujah in April slaughtered up to 1,000 civilians, most of them women and children.
Now families are fleeing the city in their thousands as nightly bombardments by US gunships add to the grisly toll of civilian deaths - 30,000 killed so far throughout Iraq.
Bush and Blair are fighting an unwinnable war. Every day that the troops remain the violence will continue - even if elections go ahead in January. The Socialist Party calls for all occupying forces to be withdrawn immediately from Iraq and for the Iraqi people to determine their own future.
Why not click here to join the Socialist Party, or click here to donate to the Socialist Party.
---
In The Socialist 23 October 2004:

Stop The Warmongers
---
Workplace news and analysis

Vote 'No' To Agenda For Change

Boss's 15-year Pension 'Holiday'

A Danger To Us All

Fight The Witchhunt In The Firefighters' Union

For A Fighting Unison Leadership
---
Socialist Party features

Capitalism Condemned But Where's The Alternative?

Black Gold Rush And Casino Capitalism

The Collapse Of Stalinism
---
International socialist news and analysis

German Walkout Starts Fightback

Socialist MP Fights Sell-Off Fiasco

After the General Strike
---
Home | The Socialist 23 October 2004 | Join the Socialist Party
---