Link to this page: https://www.socialistparty.org.uk/issue/538/6165
From The Socialist newspaper, 17 June 2008
No! to racism: Yes! to decent jobs, homes and public services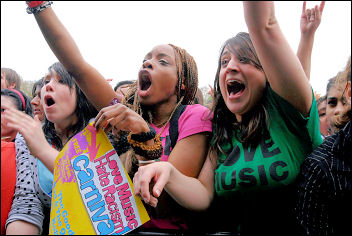 Love Music Hate Racism 2007, photo Paul Mattsson
Unite and fight against low pay and cuts in jobs and services.
No to the far-right, racist BNP.
End cheap labour. For a minimum wage of £8 an hour. No exemptions.
A massive public spending programme to create more houses, schools, hospitals and all the facilities we need. End privatisation.
Campaign to form a new mass party of the working class.
Demonstrate
21 June, 12 noon
assemble Tooley Street, London SE1
behind Greater London Assembly building, near Tower Bridge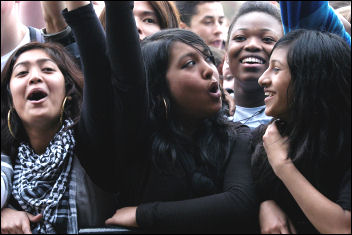 Love Music Hate Racism 2007, photo Paul Mattsson
called by love music hate racism
---
>
campaign for a new workers' party
conference
Sunday 29 June 11am - 5pm
South Camden Community School, Charrington Street, London NW1
Nearest stations - Kings Cross & St Pancras, Euston, Mornington Crescent
Speakers confirmed so far include:
Bob Crow, RMT general secretary
Dave Nellist, Campaign for a New Workers' Party national chair
John McInally, PCS vice president
Simeon Andrews, Labour Representation Committee secretary
Rob Hoveman, Respect co-ordinating committee
Dave Church, Walsall Democratic Labour Party
Mike Davies, Alliance for Green Socialism chair
Why not click here to join the Socialist Party, or click here to donate to the Socialist Party.
---
In The Socialist 17 June 2008:

No! to racism: Yes! to decent jobs, homes and public services

No! to racism: Yes! to decent jobs, homes and public services

Unite and fight against racism

Protest at BNP 'hate festival'

Let AmDani stay!

conference
---
International socialist news and analysis

Lisbon Treaty 'No' vote delivers major shock for political and big business Establishment
---
Socialist Party campaigns

Shell drivers strike

David Davis - sanity or carving a position?

Greater Manchester - save your post office

London protest over Rajapaksa's dismal human rights record

Stop big business polluting our environment
---
Education

Stop New Labour's divisive school academy plans
---
Socialist Party NHS campaign

NHS: Polyclinics - Stop this backdoor privatisation

PFI - a very bad deal for the NHS

Reopen the battle on NHS pay
---
Socialist Party campaigns

End the occupations

Unison conference: Angry delegates attack leaders
---
Post office closures

Leeds: Stop Beeston post office closures
---
Socialist Party workplace news

National Shop Stewards Network Conference

CWU's link with Labour hotly debated

Victory against bosses at Keele

Workplace news in brief
---
Home | The Socialist 17 June 2008 | Join the Socialist Party
---